Unearth follows our ultimate list of top 10 coffee table transformation makeovers that will fuel your next DIY project.
In the realm of interior design and home decor, there's a special thrill that comes from repurposing everyday objects into something extraordinary. Coffee tables, as seemingly modest as they are, offer an excellent canvas for transformation. To ignite your creativity and inspire your inner DIY enthusiast, we've meticulously curated a collection of the top 10 coffee table makeovers, each brimming with innovation, ingenuity, and that wow-factor you've been searching for.
Prepare to embark on a journey of design and transformation as we unravel the genius behind these coffee table masterpieces. From elegant and timeless classics to avant-garde, eye-catching showstoppers, our collection showcases a diverse array of styles and approaches to the art of coffee table reinvention. These are not your run-of-the-mill DIY projects; they are the epitome of craftsmanship and vision.
Within the following pages, you'll unearth the secrets behind these remarkable coffee table makeovers, gaining insights into the thought processes, techniques, and materials that brought these ideas to life. Whether you're aiming for an eco-friendly upcycling venture or craving a burst of creativity for your living space, these transformations offer a trove of inspiration.
Each makeover stands as a testament to the endless possibilities that lie within your coffee table, waiting for your touch of design magic. Whether you're a seasoned DIY pro or just beginning your journey into crafting and home improvement, these transformations will spark your creativity and fuel your passion for creating unique, stylish, and functional pieces of furniture.
Get ready to explore these impressive coffee table makeovers and unlock the potential to transform your living space with style and flair. Whether you're drawn to rustic charm, minimalist aesthetics, or artistic ingenuity, you're sure to find an idea that resonates with your design sensibilities and your desire to create a one-of-a-kind statement piece for your home.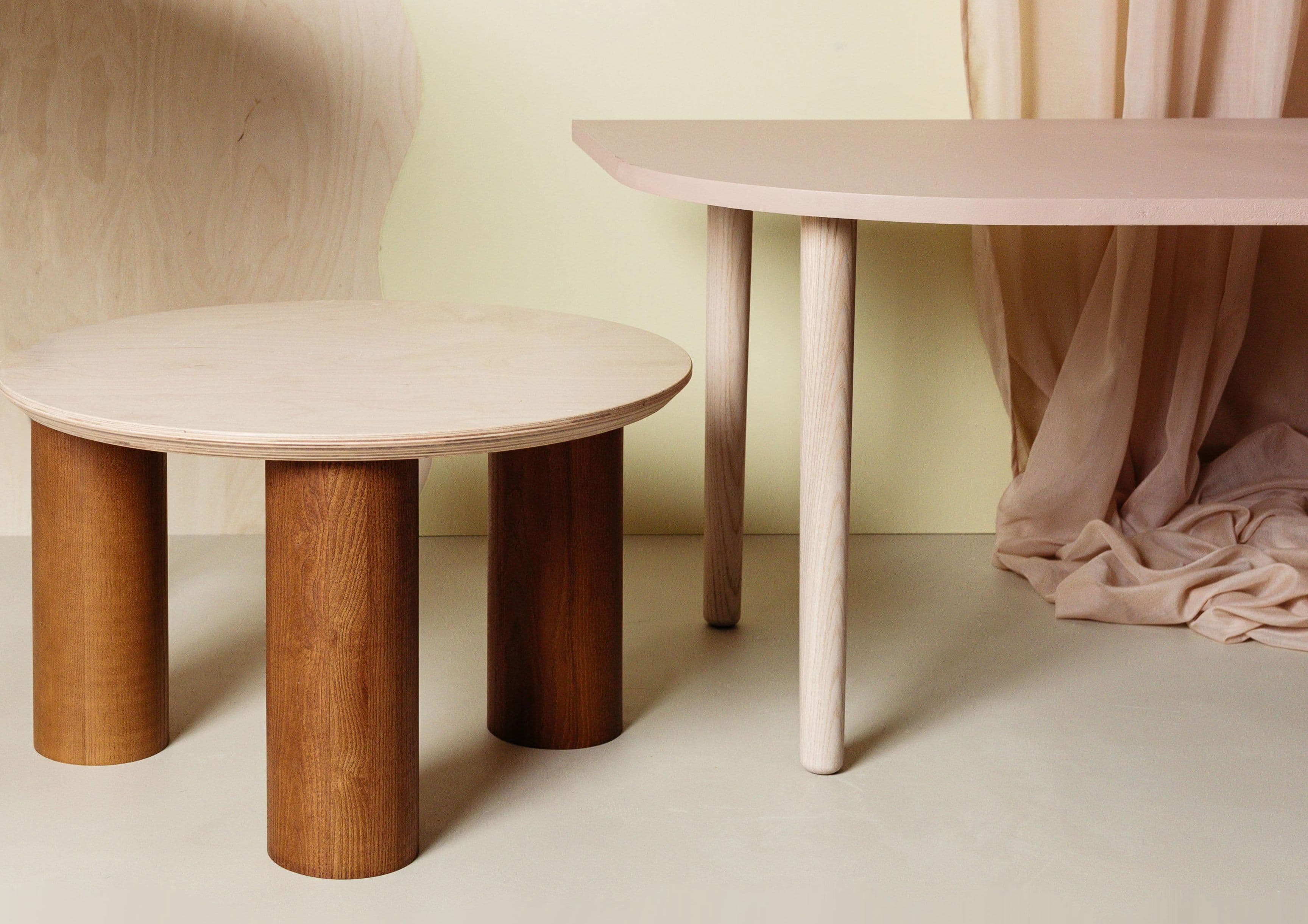 1. Transform your space with earthy tones and DIY elegance: A Berlin apartment dream table:
Are you ready to be inspired by the perfect blend of earthy tones, natural materials, and DIY creativity? In this blog post, we take you on a captivating tour of a stylish Berlin apartment that has us falling head over heels. Discover how a vintage marble slab found on eBay, paired with our versatile Bertil 300 Ash natural legs, has transformed this living space into an über-cool sanctuary. A big thank you to @dsignhumane for the inspiration!
To attach Bertil legs to a stone table top you can do it two ways:
Use 3M stickers: cover the whole top of the leg with the sticker and make sure you attach it well to the top. You can buy these king of stickers in a hardware store.

Use universal fitting plates: Always included when you buy legs for table top at Prettypegs.com. First you have to glue a wooden board under the table top and then you just screw the plates on to the wooden board.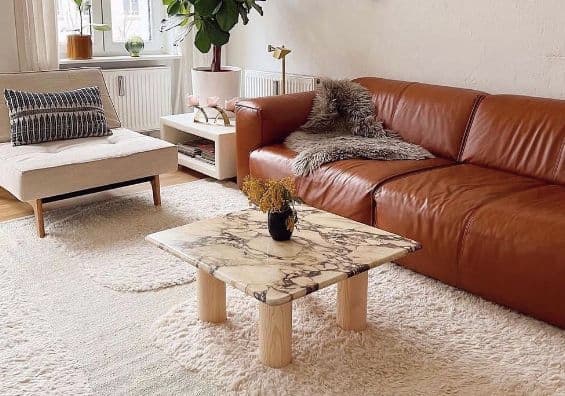 2. Unlock your creativity: Craft a stylish sideboard
Ready for a delightful and budget-friendly DIY? Grab a wooden board, a small marble top, glue together and attach our table legs with our universal fitting plate. Simple as ABC, create a charming sideboard for your space.
We used Prettypegs Arvid 300 legs and a marble top from @houseofdesignsweden, elevating style and functionality while displaying your crafty talents. Crafting a unique piece tailored to your style brings satisfaction.
Excited to begin your DIY journey? Unleash your inner artist, share your project, and let your creativity shine. Transform your space with DIY elegance and make your furniture one-of-a-kind.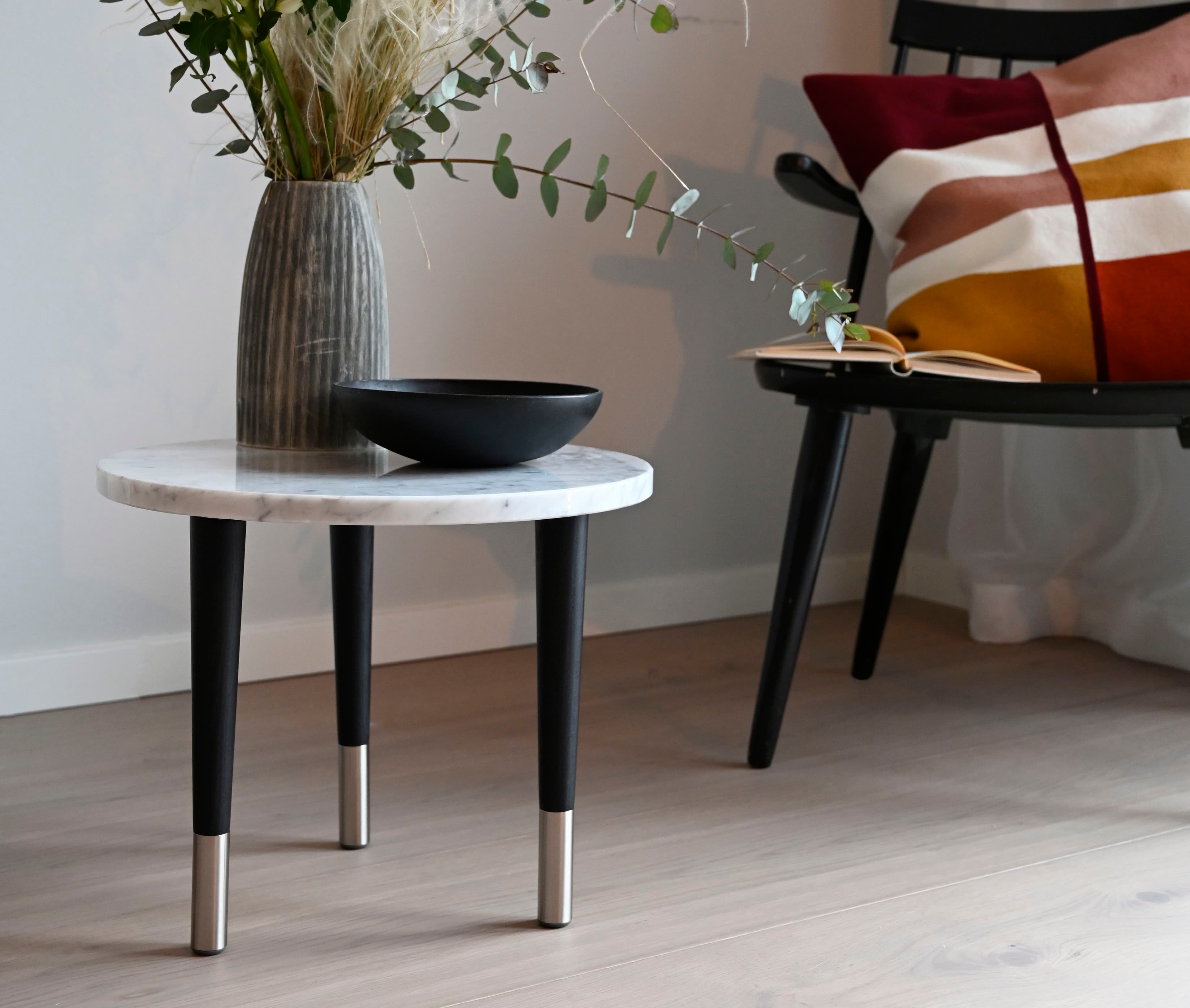 3. Experience the Wonder of Upcycling: A Sustainable Sofa Table Transformation
Delight in one of our cherished sofa table makeovers in the home of @hornstullmedklass! What sets this transformation apart is not only its striking result but also its incredible journey from rescue to rejuvenation. This extraordinary table teetered on the brink of becoming landfill-bound but we decided to intervene.
With a simple yet imaginative approach, we breathed new life into this table. A dash of paint and the addition of our brand-new Bertil legs - and voilà! The outcome? A one-of-a-kind masterpiece that we proudly dub FABULOUS, all for just 150 Euros in total. However, the enchantment doesn't end there.
By opting for upcycling over disposal, we not only saved substantially but also contributed to the planet's welfare. We reduced the consumption of valuable resources and minimized waste.
Join us in making a change, one upcycled creation at a time. Together, we can infuse magic into your space while lessening our environmental impact.
The legs are attached with the included universal fitting plates.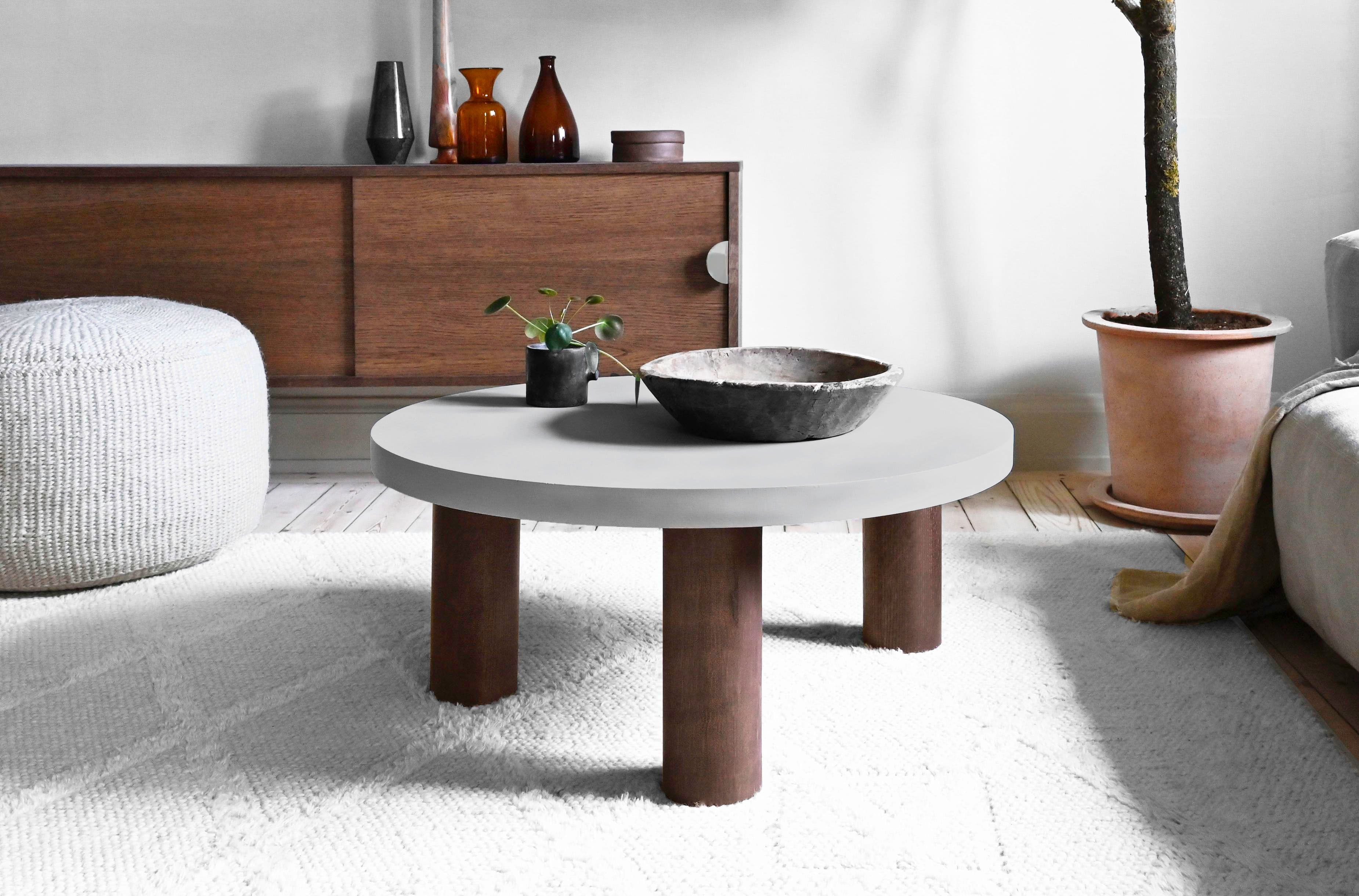 4. DIY Marvel: Transforming an Old Stone Slab into an Elegant Sofa Table
Ready for a delightful and budget-friendly DIY project? Look no further than this DIY alert! All you need is an old stone slab, a wooden base, and our Estelle 300 legs in luxurious walnut with our universal fitting plates. With a few simple steps, you can create a stunning and elegant sofa table that's perfect for enjoying a good cup of coffee or adding a touch of sophistication to your space.
We want to extend our gratitude to @catrinhinsell for inspiring us with this brilliant idea. It's proof that a creative DIY project can not only enhance your home decor but also provide an opportunity to showcase your unique style. Get ready to transform your living space and infuse it with a touch of elegance, all while enjoying your own handcrafted masterpiece.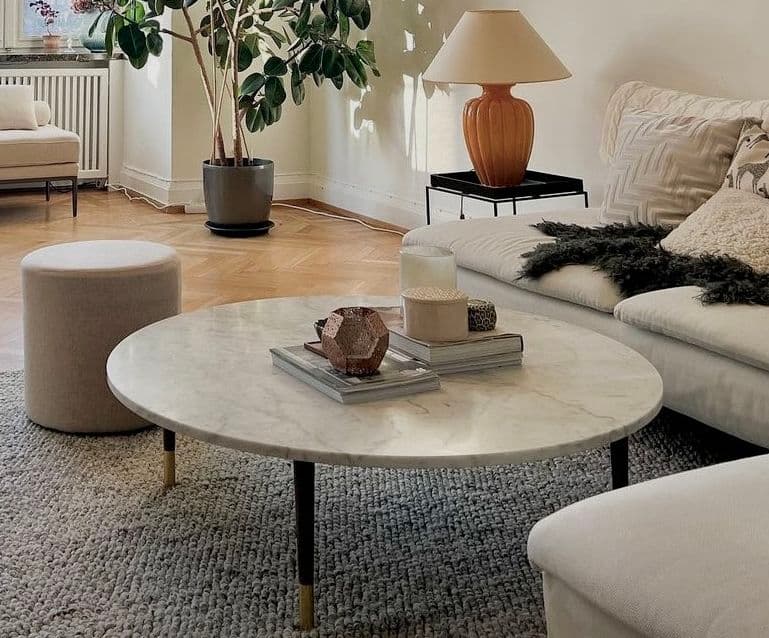 Estelle Slim 300
235.00 SEK
5. Prettypegs Dagmar 230 legs: Create your ideal morning coffee side table
Looking to elevate your sofa experience? Consider crafting a chic and functional small coffee table to pair with your comfy couch. With Prettypegs' Barbro 100 sofa legs and Dagmar 230 coffee table legs, you can create a custom piece that perfectly complements your space. These versatile, easy-to-install legs provide an ideal foundation for your DIY project, allowing you to design a coffee table that's just right for enjoying your morning cup of coffee or keeping your essentials within reach. Dive into the world of DIY furniture and personalize your living area with a touch of style and convenience. Let's get started on your sofa and coffee table transformation!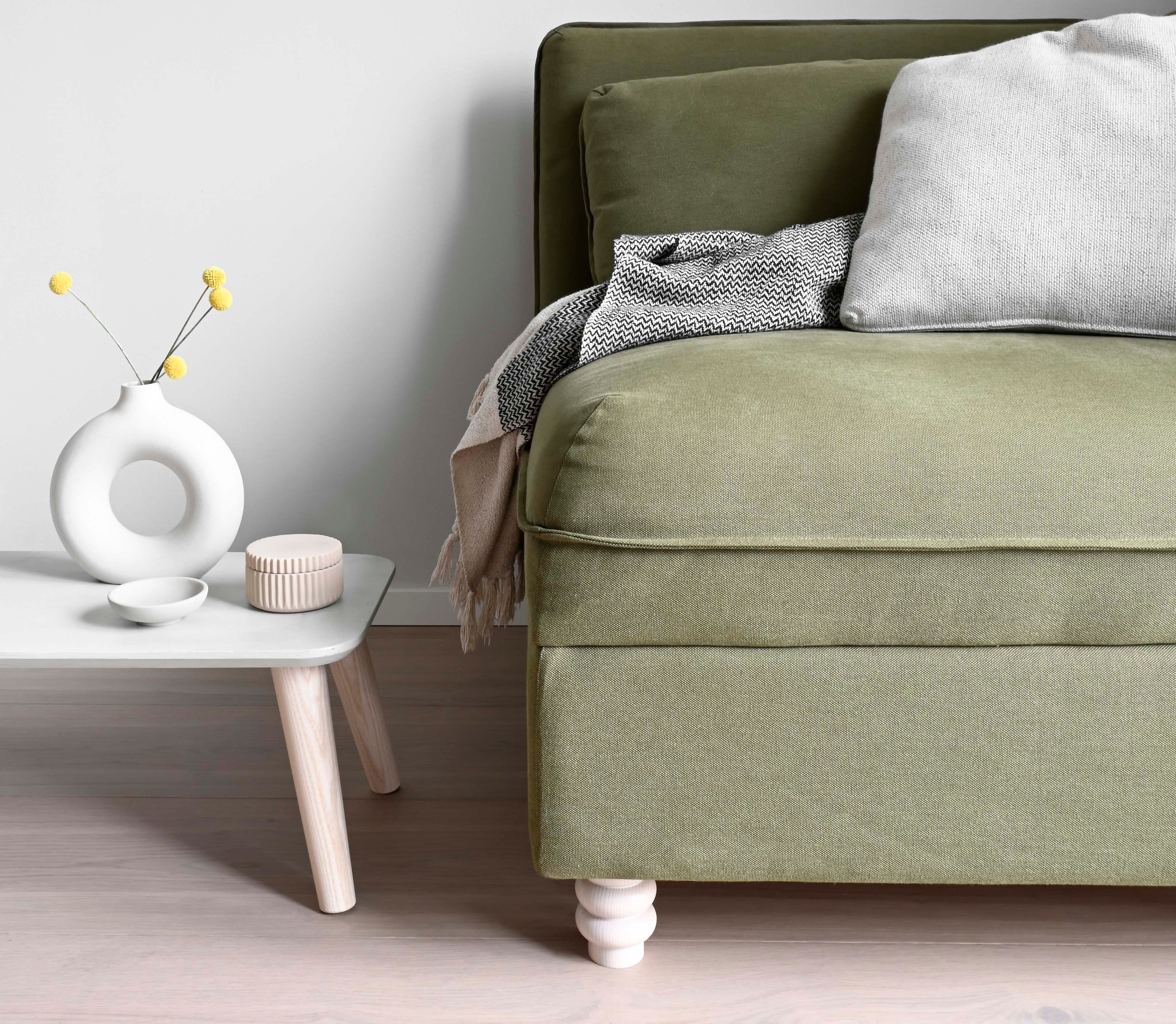 6. Enhance your dining experience with versatile Svea 440 tall coffee table legs
Discover the versatility of taller coffee table legs, such as our Svea 440 legs, as they open up a world of functionality and style in your living space. The added clearance beneath the table creates ample room for comfortable dining, whether you're seated in chairs or on your sofa. This is especially beneficial for those in smaller homes, studio apartments, or cozy nooks where a separate dining table might not be a practical choice.
With this ingenious setup, your coffee table transforms into a multifunctional centerpiece, serving both as an elegant focal point and a convenient dining surface. But the advantages don't stop there. Taller legs also bestow your table with a classic, traditional, or mid-century modern aesthetic. This feature allows you to harmonize your coffee table with your overall design preferences, ensuring a seamless blend of form and function. Elevate your living space with these stylish and practical coffee table legs and unlock new possibilities for dining and decor.
See how Fanny Hamlin made this table in this blog post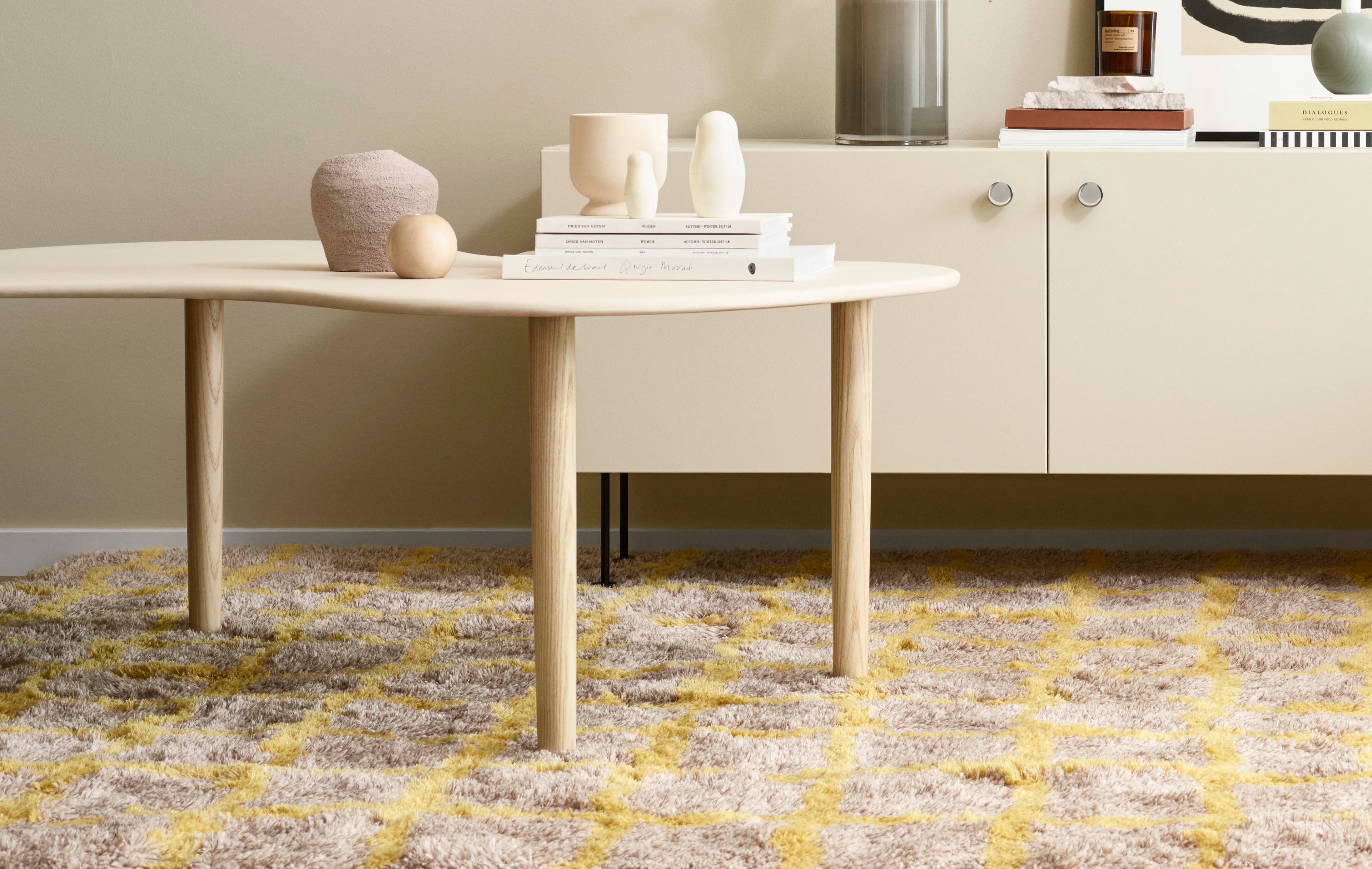 7. Coffee table with various height legs: A design and functionality boost
Crafting a chic coffee table is a breeze with some creativity and the right table legs. Stylist @studioamandarodriguez showcases her design prowess with two unique coffee tables made from old tabletops. She paired them with our Siri 160 Cloudy Pink legs and Sigrid 300 Teak legs to create a stunning piece that's both stylish and sustainable. Discover how a simple DIY project can transform your living space, adding a touch of elegance and uniqueness to your decor. Get inspired by this fantastic table makeover and start your own furniture transformation journey with Prettypegs.
In this cozy and inviting space, we introduced a touch of contrast by incorporating sturdier materials into the sofa legs. Our Greta 170 Brass legs, crafted from aluminum and featuring a distinctive diamond-shaped knurl, provide an intriguing blend of softness and rigidity. Explore how this unique combination adds character to your furniture and enhances the overall ambiance. Discover the seamless integration of design elements that bring both comfort and style to your living area.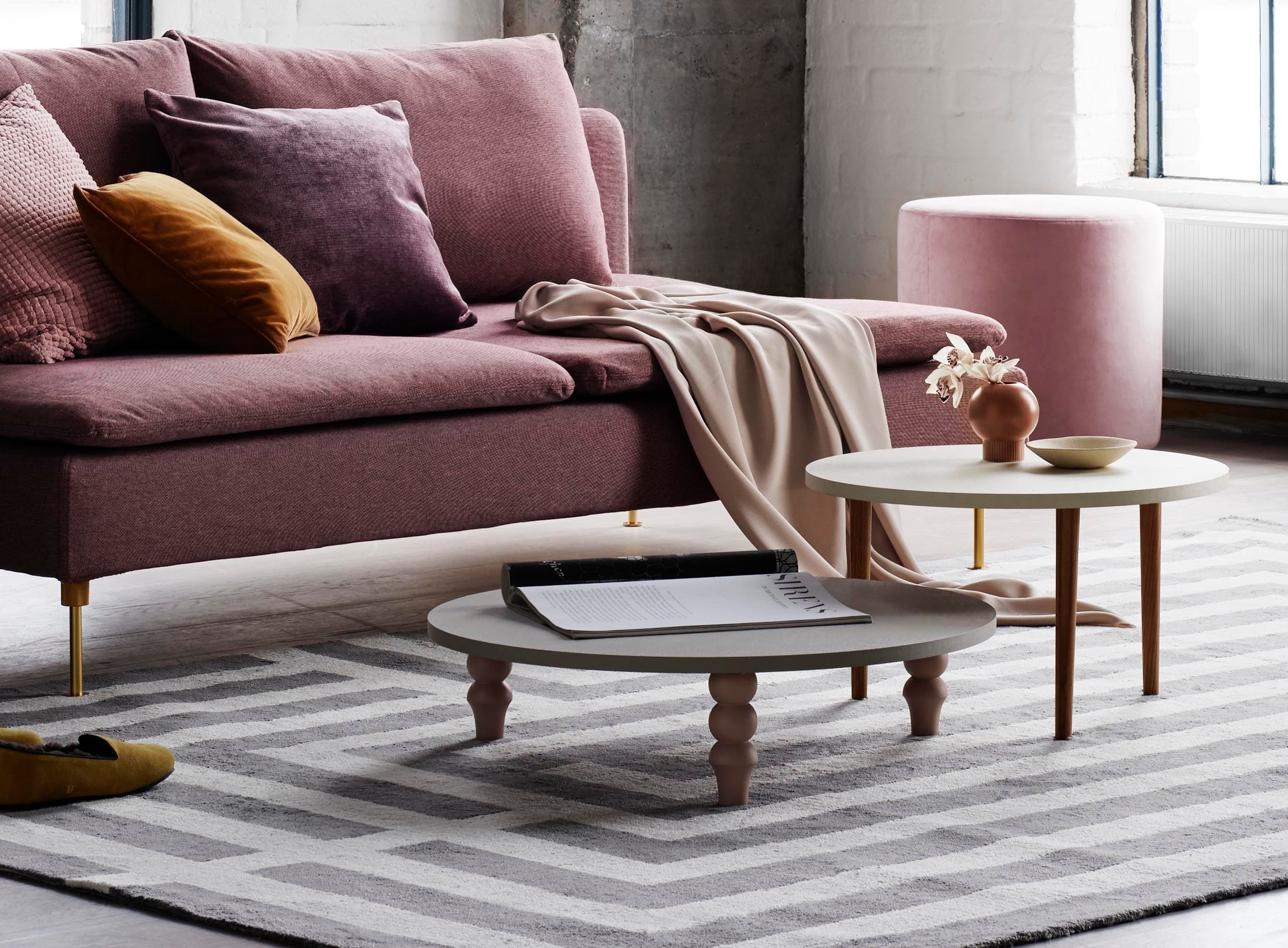 8. Bertil legs closer together: Creating a trestle leg with a stone table top
Let the radiance of light return to your living space with an enchanting and straightforward DIY project. Special thanks to @interior.hj for illuminating our design world with this magical creation, featuring our Bertil 300 legs in walnut crafted from FSC Ash wood. Paired harmoniously with a vintage stone slab, this DIY masterpiece is not only visually stunning but also symbolizes the return of warmth and charm to your decor. Could this be the simplest and most stylish DIY project ever? It certainly adds a touch of enchantment to your home, effortlessly infusing a cozy and inviting atmosphere. Join the DIY revolution and welcome the resurgence of light and elegance into your living area.
By putting these legs close together and placing them in the middle of the table top, @interior.hj made them look like a pedestal base and we love it!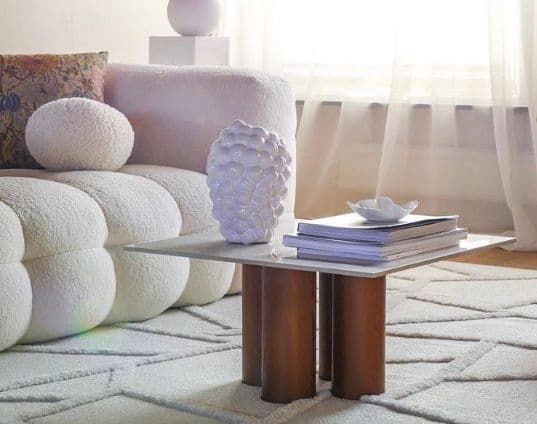 9. Weekend vibes: A stylish DIY nightstand
@studioelwa's home exudes a sense of laid-back elegance, perfect for those lazy weekend vibes. However, what caught our eye is her DIY nightstand featuring our Bertil 300 legs. This simple yet stylish addition complements the cozy atmosphere, adding a touch of functionality and aesthetic charm to the space. With a penchant for design and a dash of creativity, @studioelwa has crafted a nightstand that perfectly matches her unique style and the relaxed ambiance she's created. It's a testament to how a small DIY project can make a big difference in your home, enhancing both your decor and your weekend relaxation. If you're seeking inspiration to transform your living space with simplicity and style, don't miss this clever design choice.
This table top was made of a thick plywood board. She then painted the top and the legs black and attached the legs to the top with the included universal fitting plates.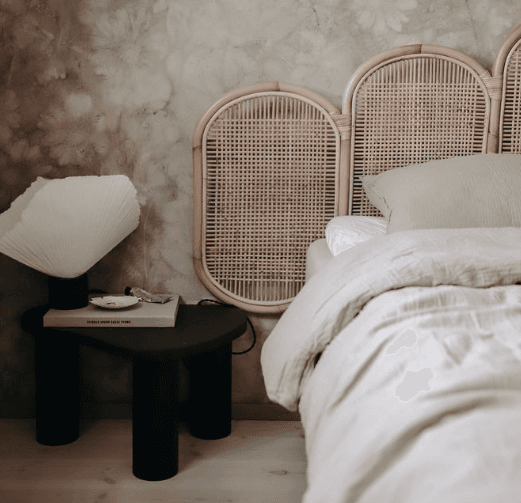 10. Unlock the potential of a pre loved furniture with Prettypegs: Vintage round table top meets Sigrid 300 Black
In a world that values sustainability and creativity, furniture upcycling has taken center stage. If you've been contemplating parting ways with a vintage round table top or a second-hand Norsborg IKEA sofa, hold onto them, because we have an exciting solution for you. Instead of discarding, consider upcycling your furniture with Prettypegs.
With the simple addition of our Sigrid 300 Black table legs, you can transform your vintage table top into a chic and stylish centerpiece that adds character to any room. These legs are not only a practical choice but also a design statement, offering a contrast that complements the aesthetics of your table perfectly.
But that's not all; you can revamp your entire living space by pairing the Sigrid 300 Black table legs with an Ester legged Norsborg IKEA sofa. This combination not only enhances the visual appeal of your furniture but also breathes new life into your interior. The flexibility of Prettypegs allows you to add your personal touch to your furniture, making it distinctly yours.
When you buy our legs you always get the right fitting included. The universal fitting plate can be screwed into most material and is an easy way to be able to change legs over time. For many sofa models there is a pre drilled M8 threaded hole so you can screw our legs in without any fitting plates. If the plates are not needed for your sofa model, you won't receive them. Just as simple as that!
By choosing upcycling over disposal, you're not only embracing eco-friendliness but also infusing your home with unique and creative design. With Prettypegs, the possibilities are endless, and the transformation is in your hands. Elevate your furniture and give it a new lease on life, all while reducing waste and contributing to a sustainable future.