Discover a world of creative possibilities as we delve into our top dining table hacks, infused with a dose of IKEA-inspired Scandinavian design. These innovative ideas make furniture transformation a breeze, allowing you to unleash your creativity effortlessly. Explore the art of table hacking and elevate your dining area with style and flair.
Access our full range of dining table legs.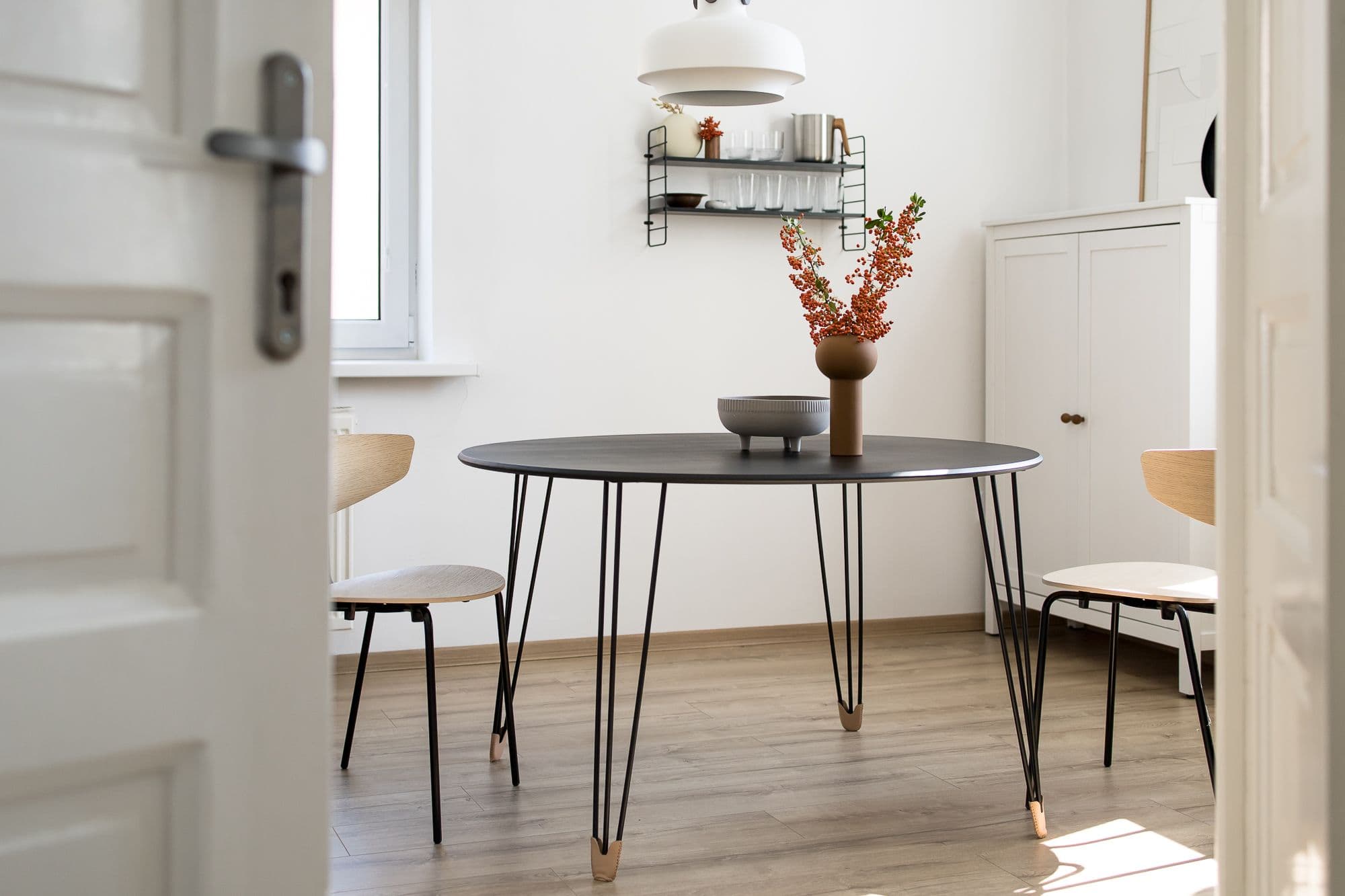 1. Elevate Your Dining Space with Otto 700 Legs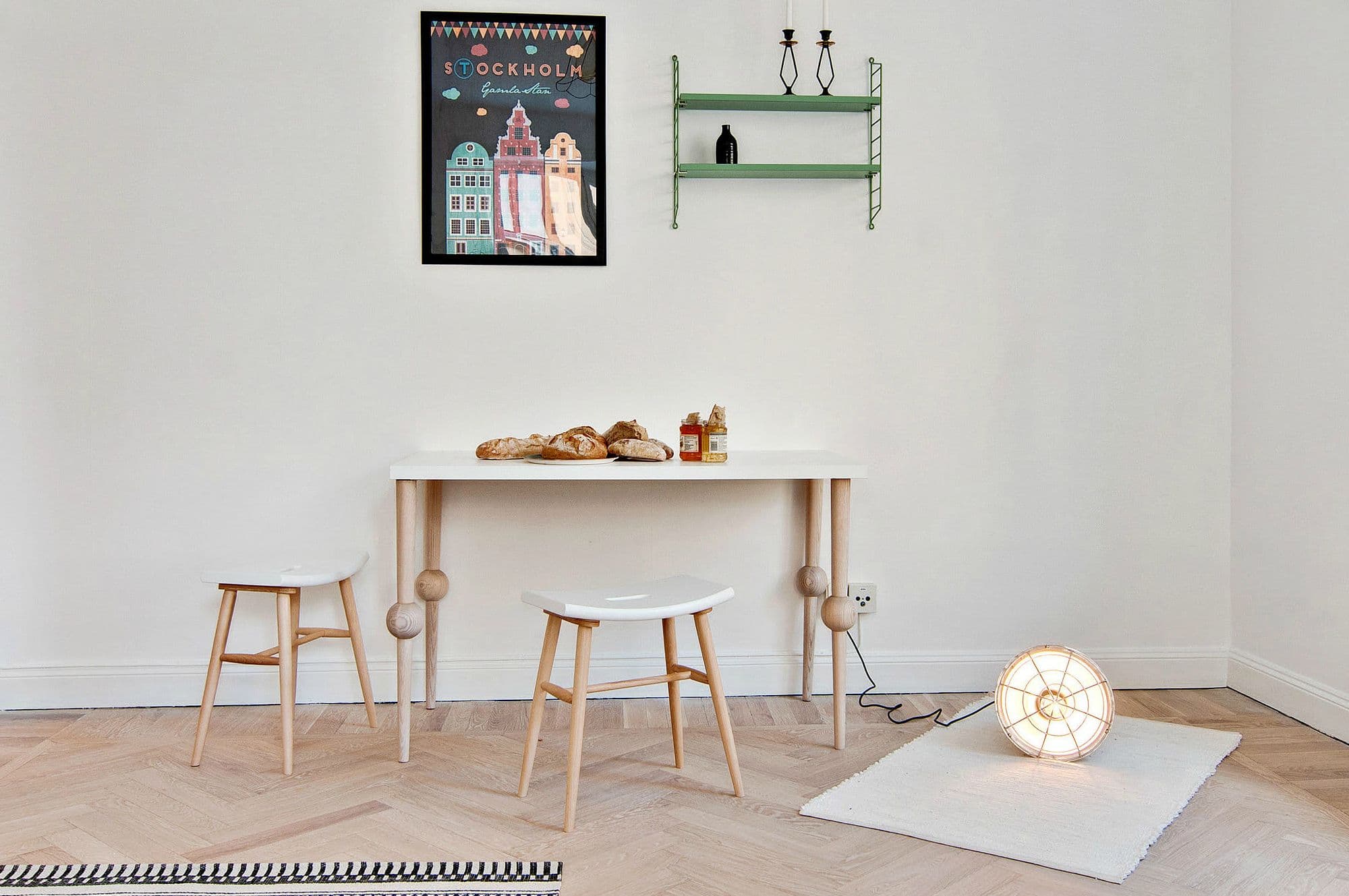 Indulge in the elegance of a dining area designed by @mainstreetsthlm, featuring our Otto 700 legs in natural ash wood. The natural warmth and simplicity of these legs infuse a touch of Scandinavian charm into the space, creating a welcoming and stylish environment for your dining experiences. Discover the art of blending design and functionality with these exquisite table legs, bringing your dining area to life.
2. Striking Black and White Interior with Siri 700 Legs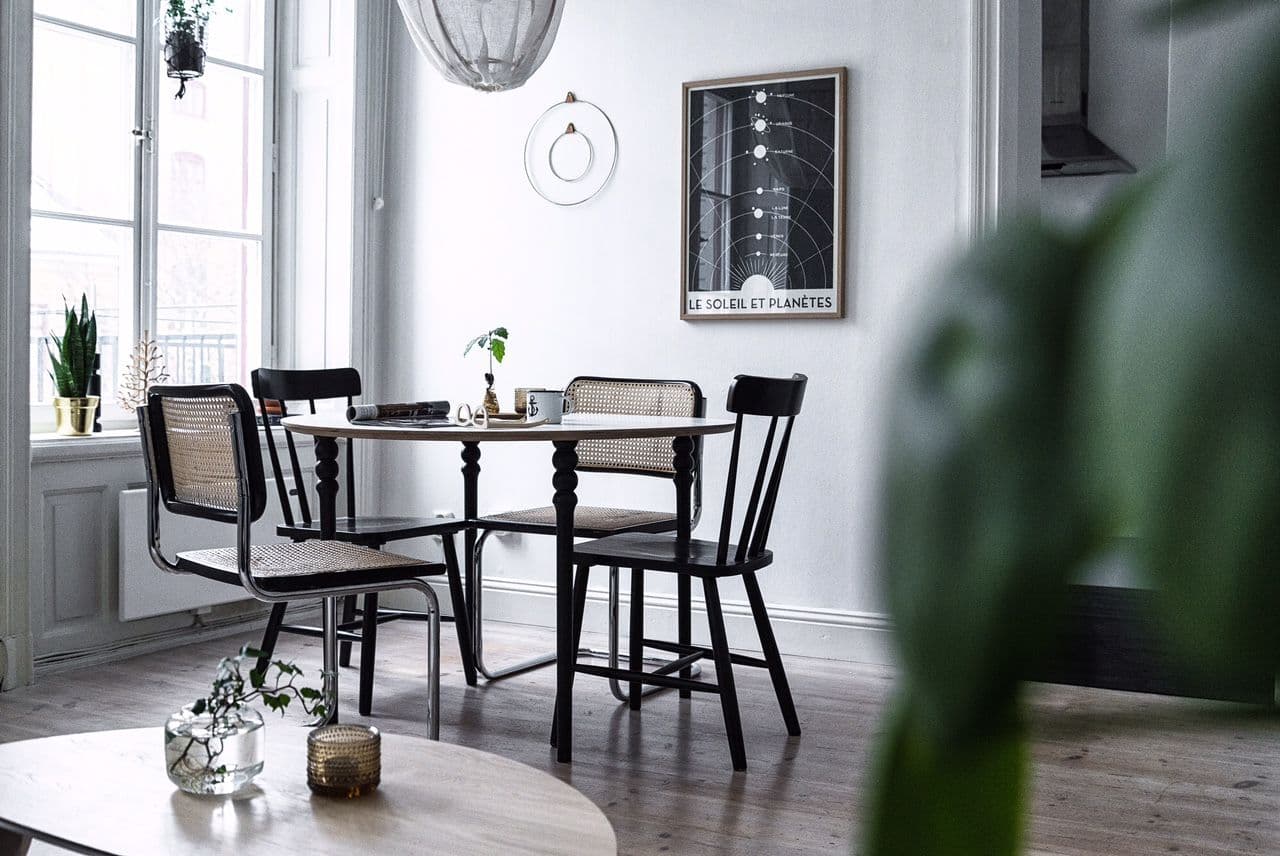 Indulge in the sleek elegance of a dining table meticulously crafted in matte black. The creative minds at Even Steven Agenturer have brought forth a dining table that seamlessly complements a minimalistic interior, offering a perfect fusion of form and function. This exquisite piece not only captivates with its striking design but also ensures it's environmentally responsible, thanks to the FSC certification of Prettypegs legs. Explore the beauty of understated luxury with this dining table that effortlessly transforms your dining space into a realm of timeless style
3. Crafting a Stylish Dining Table from Parquet: A DIY Masterpiece with Ellinor Legs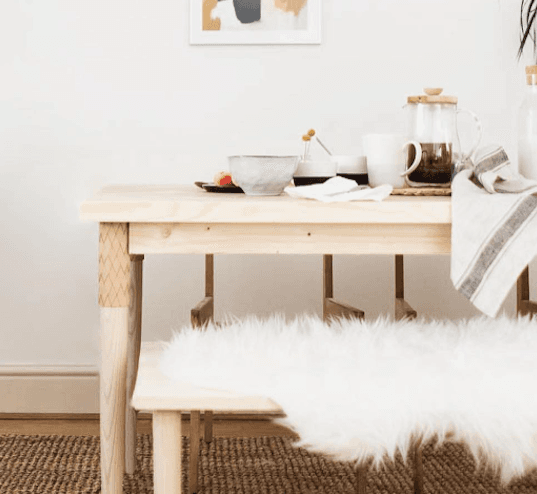 Looking to create a unique dining table that's both functional and brimming with character? @fallfordiy has set the bar high with her exceptional DIY project. Using parquet as the primary material and incorporating our distinctive ELLINOR 700 BRAIDED legs, she's crafted a dining table that's both a statement piece and a testament to creativity.
The intricate braided design of the ELLINOR 700 legs adds a touch of artistry to the table, making it an eye-catching focal point in any dining space. This DIY masterpiece demonstrates how a blend of inventive thinking and quality furniture legs can result in a functional work of art.
If you're seeking inspiration for your next DIY project or hoping to elevate your dining area with a one-of-a-kind table, this ingenious creation by @fallfordiy is the perfect example. Unleash your inner craftsman and follow in her footsteps to craft your own stylish and personalized dining table.
See more from fallfordiy.com
Ellinor 700 Braided
499.00 SEK
4. Embrace the Coziness of Fall Nights: A DIY Dining Table to Cherish
As the nights grow longer and the air turns crisper, there's something undeniably magical about gathering loved ones around a beautifully crafted dining table. @the.aesthetic.eye has inspired us with their delightful DIY project, which features a custom table top paired with our sturdy Harald legs.
Crafted with love and creativity, this table serves as the perfect centerpiece for warm gatherings and heartfelt conversations. It's a testament to how a simple yet stylish DIY project can enhance the ambiance of your home and create memorable moments.
As we enter the season of cozy evenings and shared meals, we're reminded of the importance of having a welcoming and beautiful dining space. @the.aesthetic.eye's creation showcases the power of combining a personal touch with quality table legs to produce a piece that's both functional and captivating.
Get ready to embrace the charm of fall and create your own inviting dining area with a touch of DIY magic. With the right table legs and a bit of inspiration, you can craft a dining table that's perfect for making cherished memories.
5. Elevate Your Breakfast Nook: A Charming DIY Table Transformation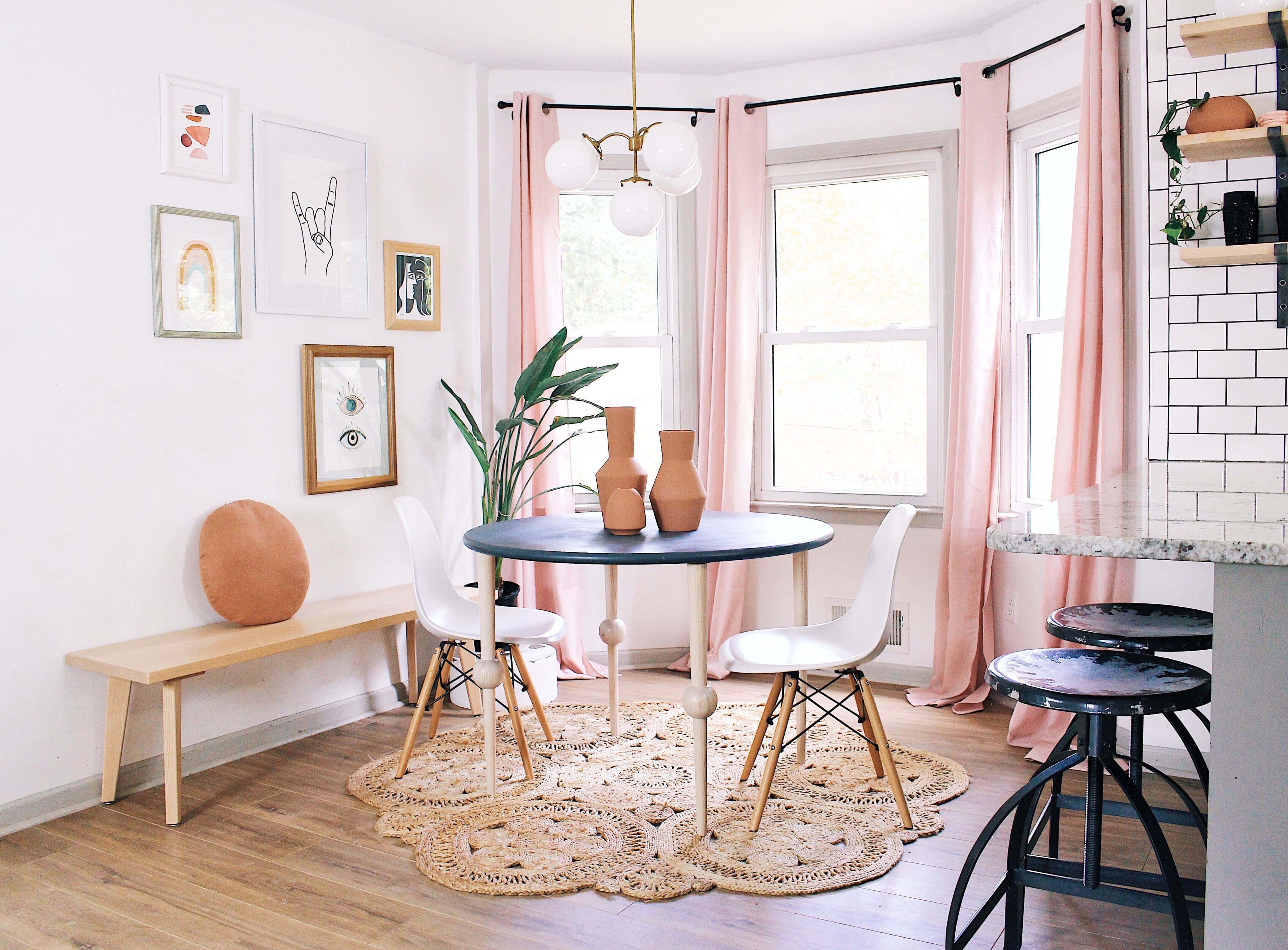 The inviting breakfast nook at @houseonasugarhill is a delightful sight, evoking the desire to savor coffee, pastries, and eggs all day long. The innovative repurposing of an old table top in a stunning blue hue, combined with the addition of our versatile Otto legs, has given this space a unique and personal touch.
This creative endeavor not only adds a distinct character to the breakfast nook but also proves to be a cost-effective and eco-friendly solution. The result is a win-win-win, where you get a personalized and environmentally conscious piece of furniture that complements your home and lifestyle.
Repurposing furniture, as showcased in this project, demonstrates how a touch of DIY ingenuity can transform an ordinary piece into something extraordinary. It's an inspiring reminder of the potential that lies within old furniture, waiting to be brought to life with a fresh vision and the right components.
If you're seeking to enhance your breakfast nook or any other space in your home, consider the endless possibilities of DIY furniture transformations. With the right ideas and a bit of creativity, you can craft unique, stylish, and environmentally responsible pieces that reflect your personality and values.
Read how the Bond family transformed their space!
6. Elevate Your Dining Area: A Majestic Interior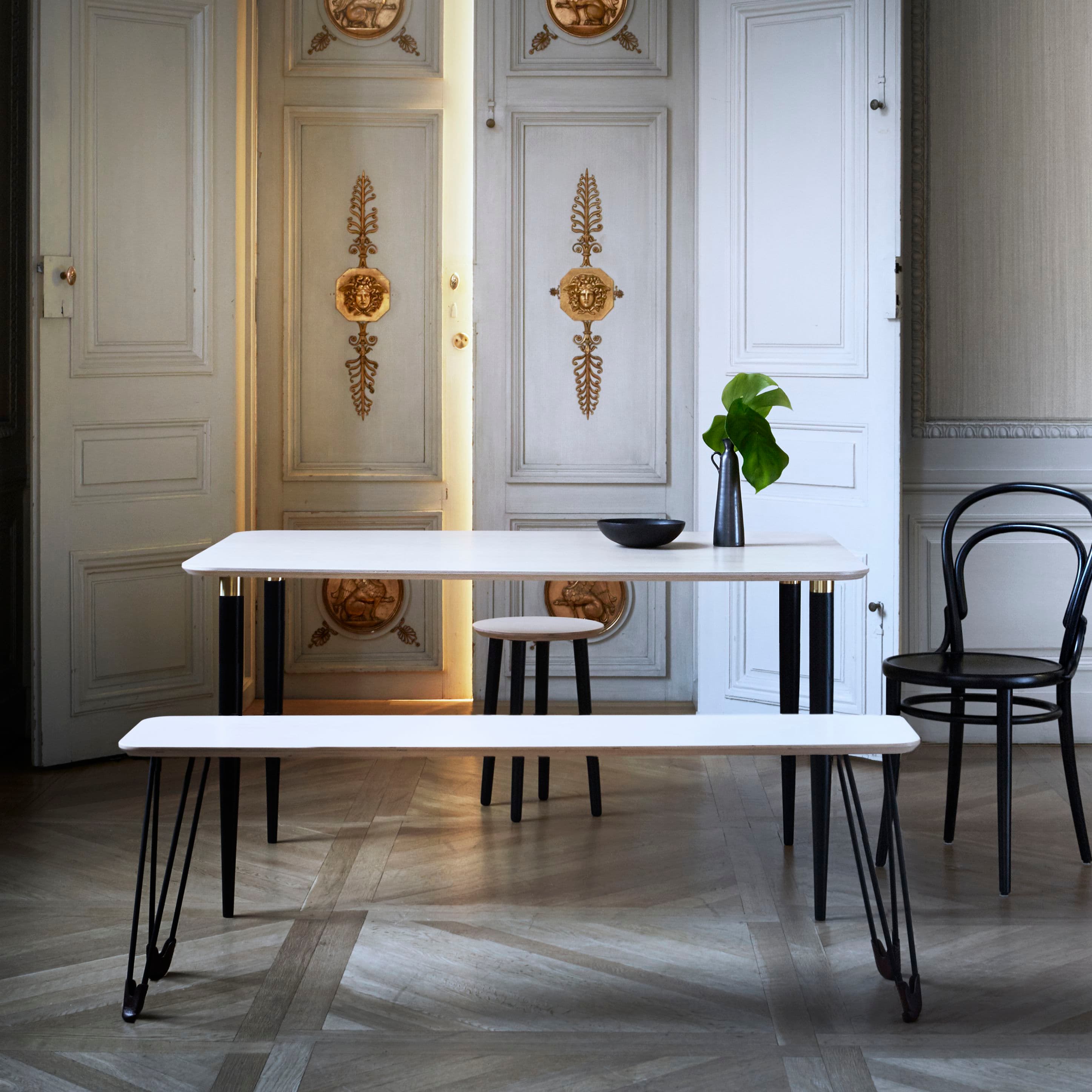 Experience the epitome of luxury in this majestic interior, where every detail exudes opulence and refinement. The dining area, in particular, stands out as a sanctuary of sophistication and style. The key to this elegant space lies in the careful selection of furniture components (and maybe, just maybe something has to do with this beautiful space ;).
For the dining table, the Estelle 700 legs were chosen to create a sense of grandeur. These legs, with their exquisite design and craftsmanship, enhance the luxury feeling of the room. They provide the perfect foundation for a dining table that radiates elegance and charm.
To complement the dining table, the Harald 480 legs were selected for the bench. These legs not only match the overall aesthetic but also add a harmonious touch to the seating arrangement. The choice of legs for the bench ensures that every aspect of the dining area contributes to the luxurious atmosphere.
This interior, with its tasteful choice of furniture components, showcases how the right pieces can elevate a space to new heights of luxury. If you aspire to create a dining area that exudes opulence and sophistication, the Estelle 700 and Harald 480 legs are essential elements to consider. They allow you to transform your dining space into a majestic haven where every meal feels like a special occasion.
7. Siri 700 Teak: Lift Your Kitchen Table with Scandinavian Elegance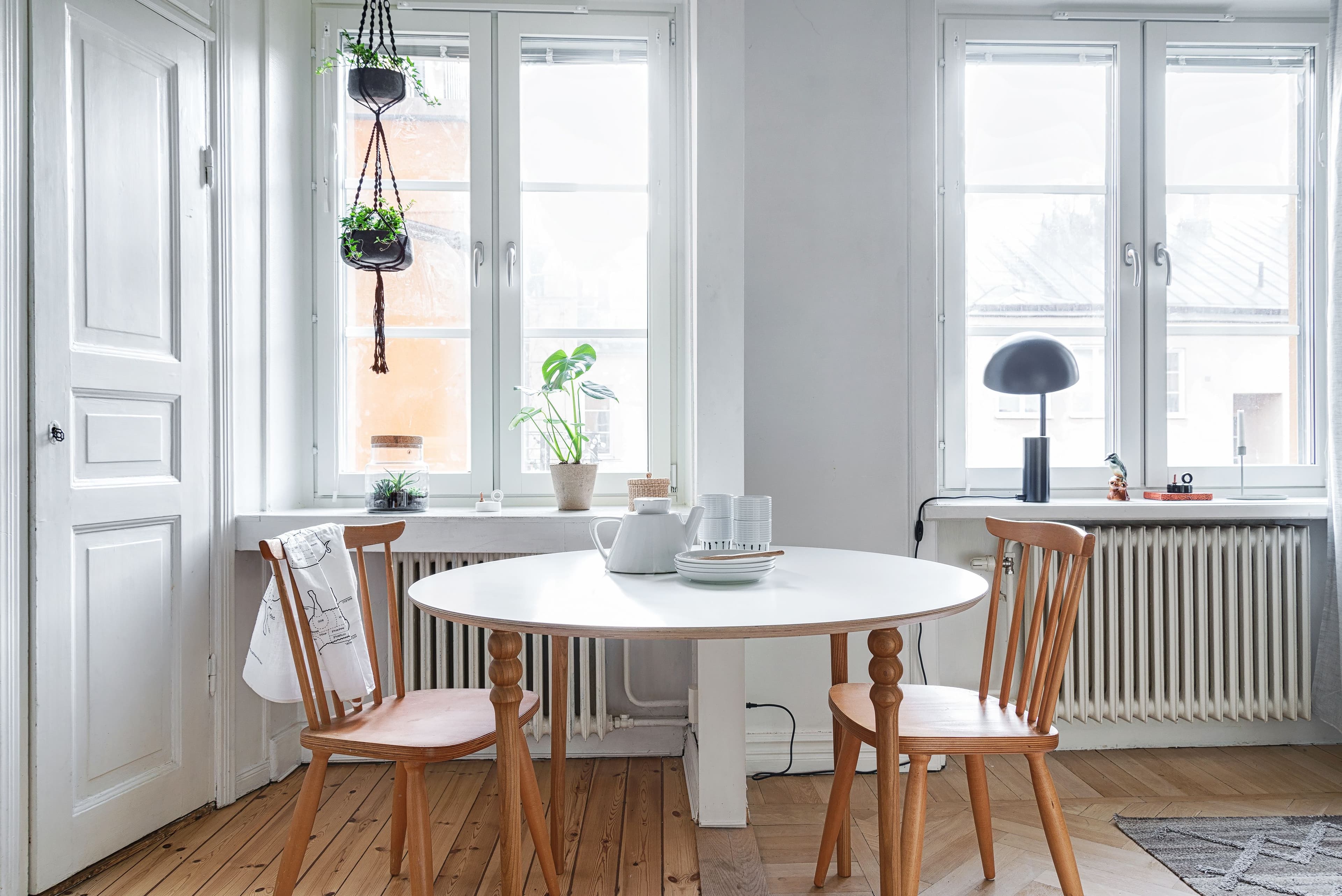 Even Steven Agenturer gave this kitchen an effortless makeover by simply attaching Prettypegs teak legs to a preloved table top. It is really easy to refresh your kitchen space with this simple DIY upgrade. The warmth of the teak wood adds a retro charm to an otherwise clean and contemporary Scandinavian room.
8. Create the Ultimate Nordic Look: Carl in Ash Paired with a Natural Wooden Table Top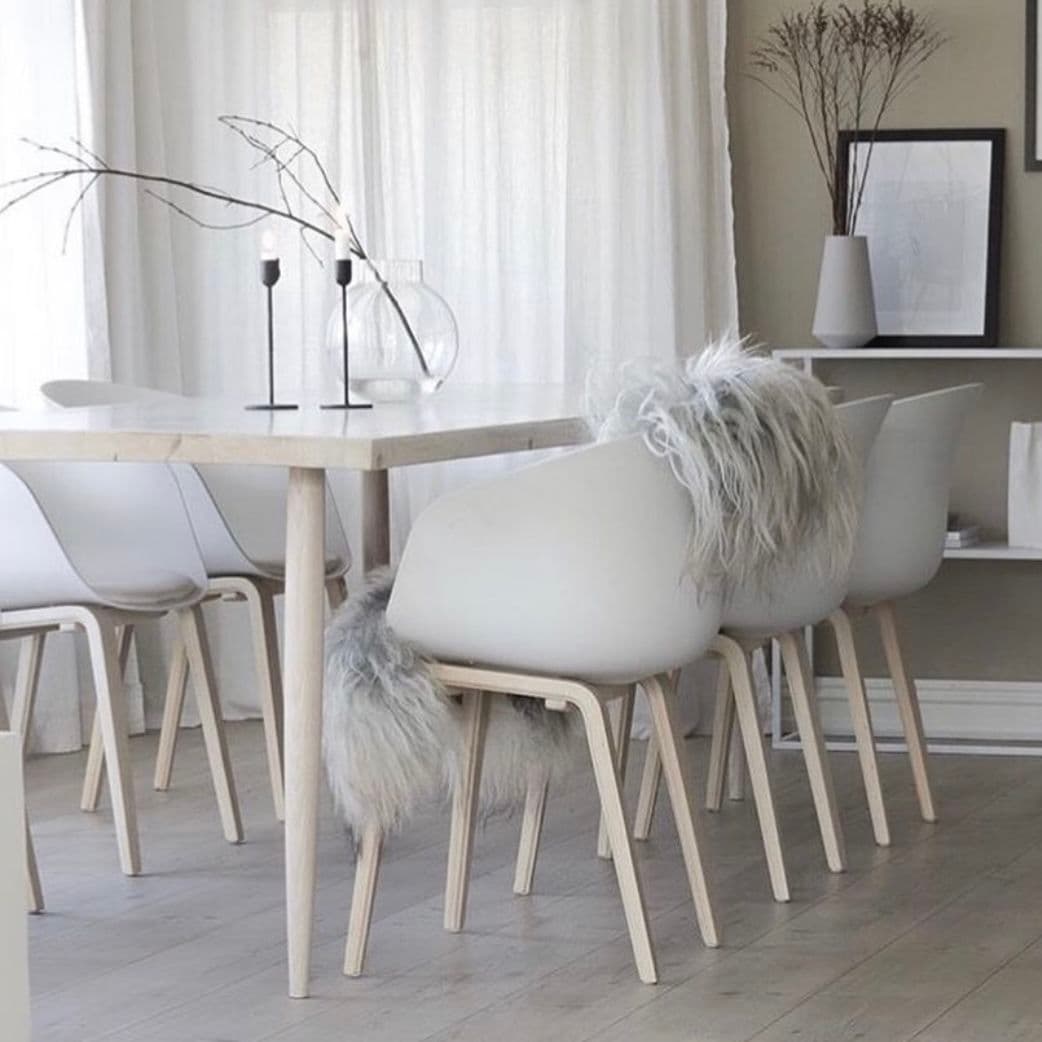 Elevate your interior to the epitome of Nordic design with the perfect pairing of Carl in Ash legs and a natural wooden table top. This combination captures the essence of Scandinavian aesthetics, exuding simplicity, functionality, and timeless charm. With Carl 700 ash wood legs, you achieve both a touch of modern elegance and a connection to nature. This design choice complements various spaces, from dining rooms to work areas, adding a sense of warmth and style. Discover how this winning combination can transform your living space into the ultimate expression of Nordic design. Embrace the beauty of minimalism and functionality with Carl in Ash and a natural wooden table top.
9. A Soberly Stylish Modern Makeover: Even Steven's Thoughtful Design Transformation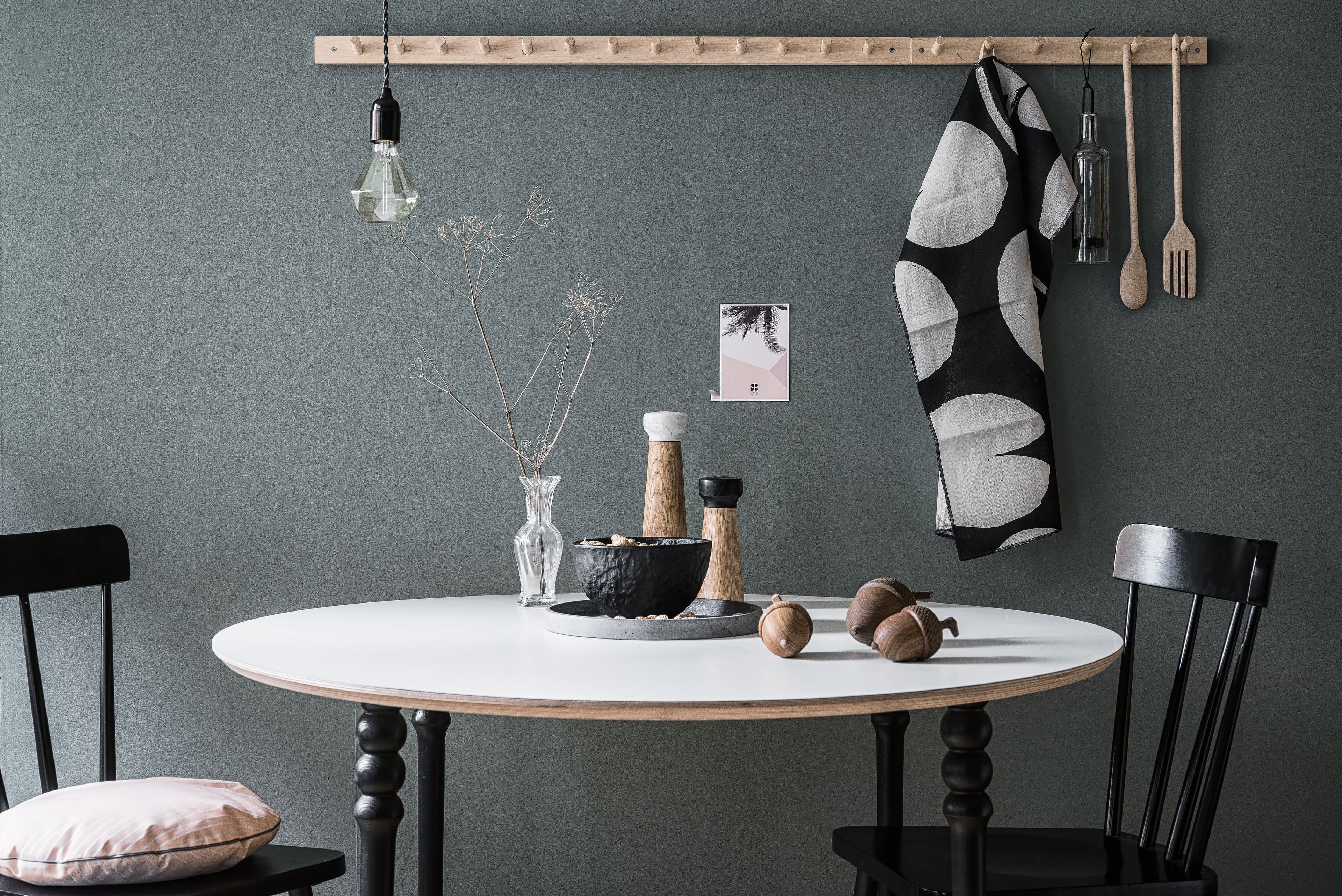 The styling from Even Steven exudes a sense of sober sophistication, making it a modern masterpiece. At first glance, it might seem as easy as adding new legs, peg chairs, and decorations, but upon closer inspection, you can tell that there's a lot of thought and consideration behind every element. Everything falls perfectly into place in this design, showcasing a true mastery of modern aesthetics. The combination of clean lines, neutral tones, and carefully chosen details creates an atmosphere of timeless elegance. If you're seeking inspiration to transform your living space into a modern haven, Even Steven's design offers a wealth of ideas and a keen sense of balance. Discover how you can infuse your home with modern style, making everything just right for your aesthetic preferences and functional needs.
In this case they used our Siri 700 legs in Black.
10. Perfection Achieved: Mainstreetstockholms Masterful Kitchen Styling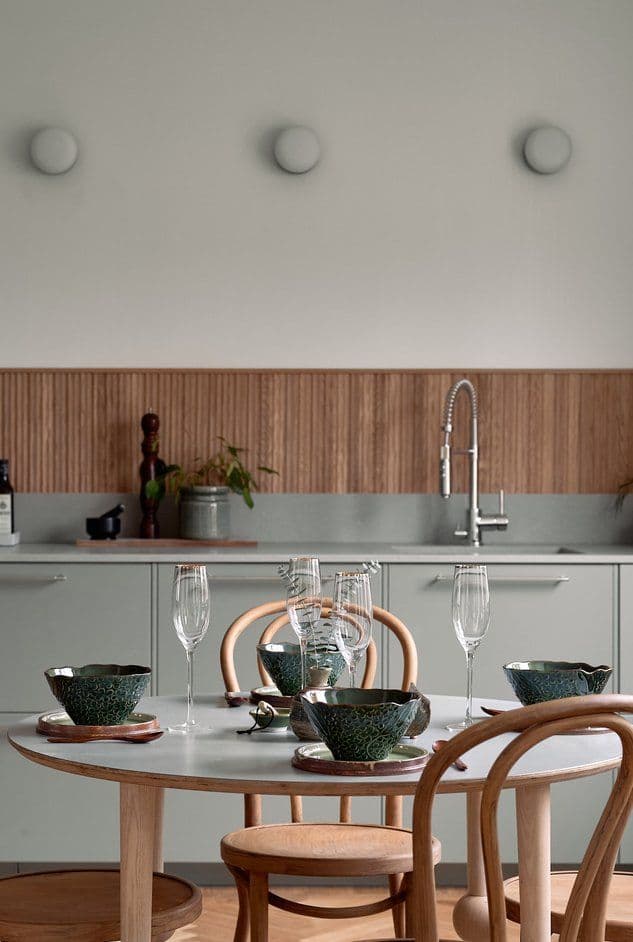 The creative agency Mainstreetstockholm with Siri Gärde has brought this kitchen styling to a whole new level of perfection. It's the kind of kitchen where you feel like cooking up a storm and then gathering around the table with friends or family for a delightful meal. The key to the design is the harmonious blend of wood elements and a carefully chosen accent color. The muted green tone, combined with natural wood, transforms this kitchen into a serene and inviting space. It's hard not to agree that every detail is just right. To add the final touch of elegance, Siri Gärde incorporated our Otto 700 legs in natural ash wood. These legs perfectly complement the natural elements in the kitchen, enhancing its overall aesthetic appeal. If you're seeking kitchen design inspiration that radiates perfection, this is an excellent source of ideas and a testament to the art of creating a harmonious living space.
Thank you for reading our top 10 table hacks! If you want to make your own table, explore our selection of table legs.