With new measures in place to combat the coronavirus, many of us find ourselves confined to our homes, working from the kitchen table. Unfortunately, it's not the most inspiring work environment. But staying at home doesn't mean you have to sacrifice productivity. To work efficiently, creating a proper home office is crucial. While the sofa might seem tempting, it's not the best option for maintaining good posture.
That's where these 10 IKEA desk hacks come in. You can easily transform your workspace with these simple DIY solutions. If you're seeking a personalized desk that's both unique and budget-friendly, you're in luck. These IKEA desk hacks are accessible to everyone and offer a cost-effective way to upgrade your home office. Using versatile table legs and a dash of creativity, you can upcycle any desk into the ultimate workspace.
Explore our selection of table legs.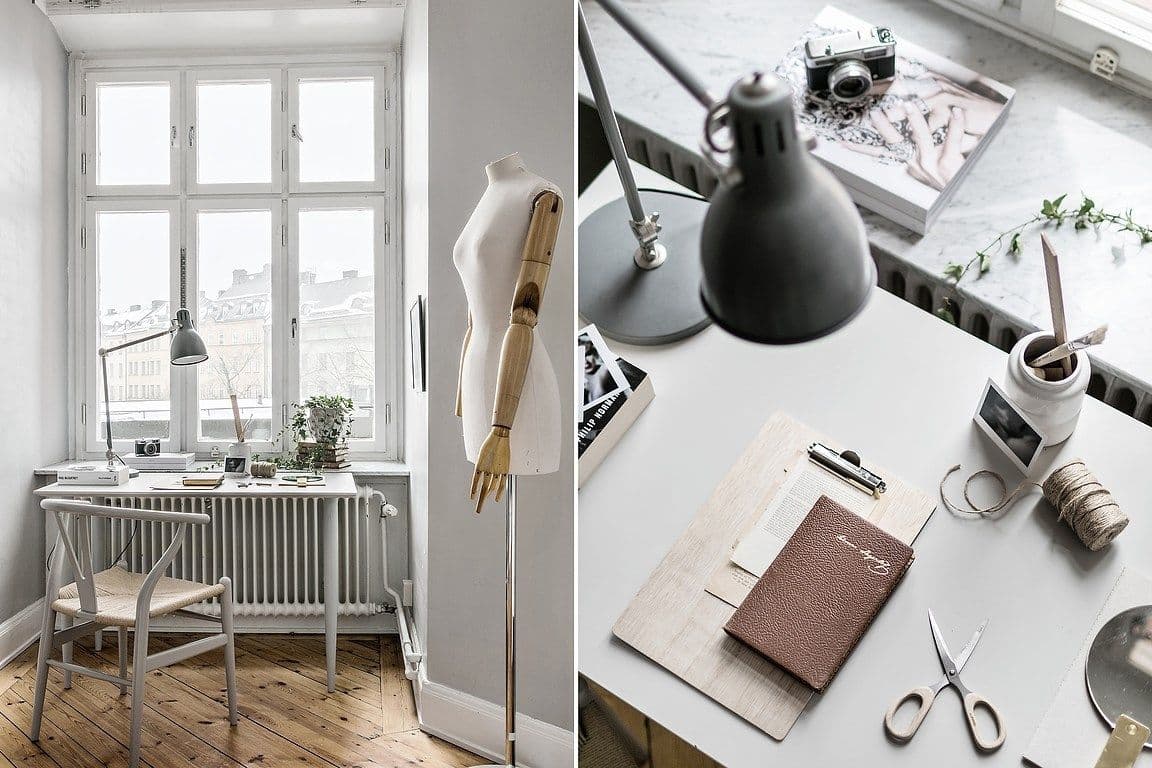 1. Scandinavian dream: Bedroom office with Carl 700 Legs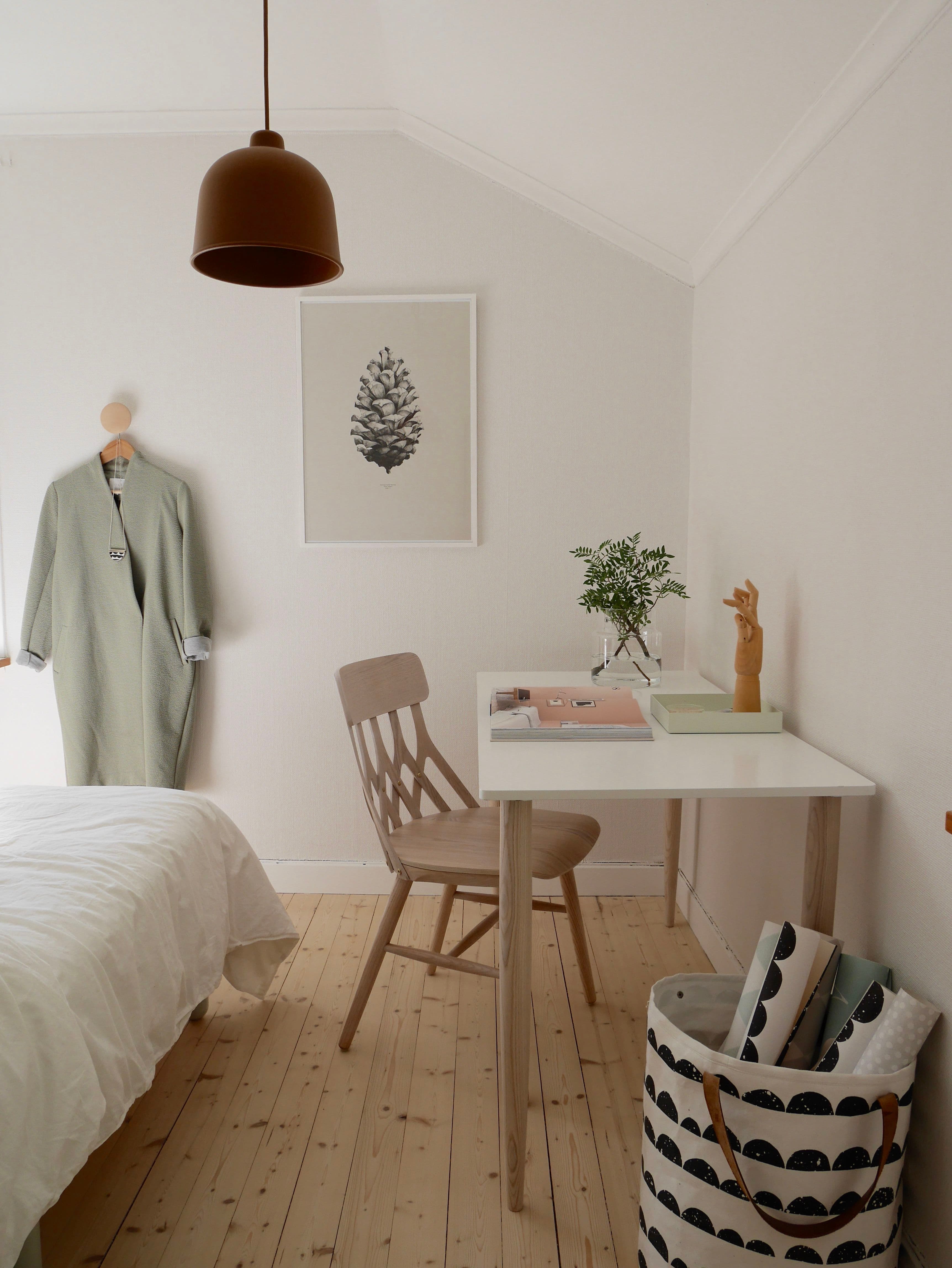 Step into a Scandinavian dream as @nordicremake crafts a beautiful office in their bedroom. Embracing the natural Scandinavian aesthetic, they've used our Carl 700 legs in natural ash wood to complete the look. These stylish legs add a touch of simplicity and elegance to the workspace, creating a harmonious and functional environment. Explore the magic of Scandinavian design and transform your bedroom into a serene and productive workspace with Prettypegs!
2. Transform Small Nooks into Stylish Home Offices with Prettypegs Otto 700 Desk Hack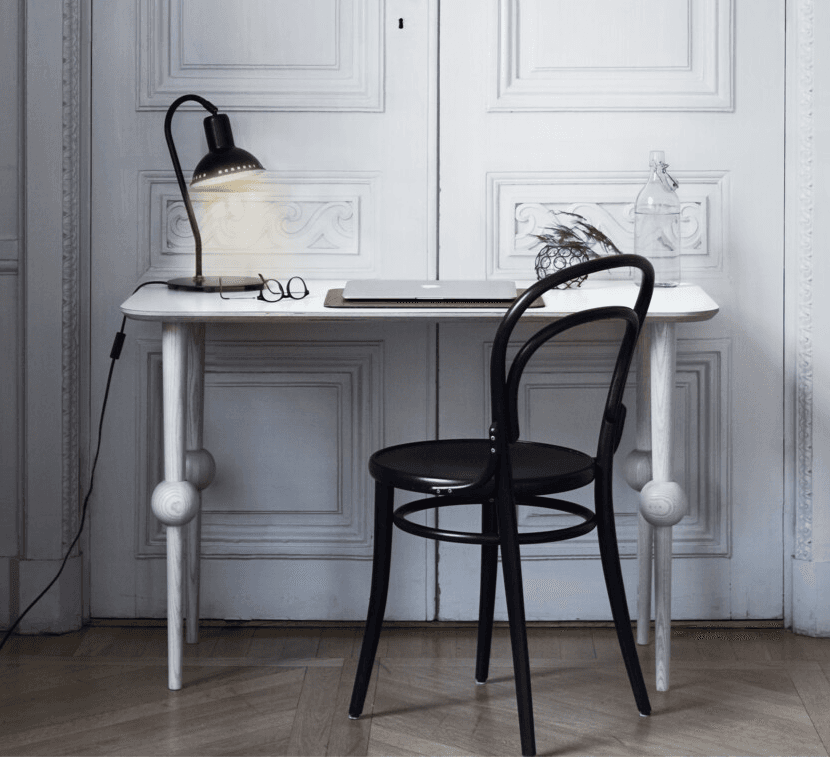 Who said you need a spacious room to create an inspiring home office? Even in the tiniest nook, you can fashion a perfect workspace that ignites your productivity. This IKEA hack, featuring Prettypegs Otto 700 legs, empowers you to craft a fabulous desk space that's both functional and stylish.
Embrace the challenge of limited space and discover how to transform that neglected corner into a home office that fuels your creativity and efficiency. The Otto 700 desk hack provides a seamless blend of Scandinavian design and functionality, making it an ideal choice for optimizing small spaces.
With a dash of creativity and Prettypegs' versatile legs, you can personalize your desk to match your decor and taste. Whether you're adapting to remote work, need a cozy study nook, or want to revamp your living area, this desk hack is the answer.
Turn your small nook into a powerhouse of productivity and style. Say goodbye to clutter and discomfort and say hello to a tailored home office that's perfect for your needs. Unlock the potential of your space with the Prettypegs Otto 700 desk hack and conquer your work or study tasks with ease.
3. IKEA Side table hack: Elevate style and functionality with this space-saving DIY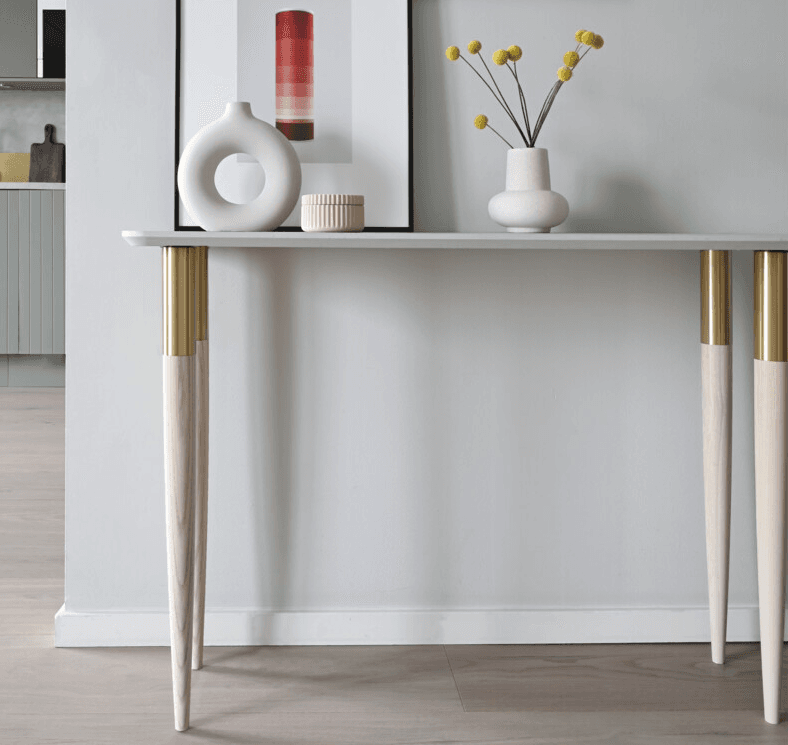 When you're short on space but big on style, an Ikea side table hack is the perfect solution. This easy DIY project not only adds a unique touch to your room but also provides a practical and stylish side table. What's more, it doubles as a makeshift home office, perfect for today's flexible work environments.
By using our Estelle 700 Ash, you can infuse your interior with Scandinavian simplicity and a hint of glamour. This Ikea hack is your ticket to optimizing your space without sacrificing aesthetics. It's a clever way to adapt your furniture to your needs and lifestyle, turning a simple side table into a multifunctional gem.
Whether you need a spot to place your laptop, a cozy corner for work or study, or an extra touch of elegance in your home, this Ikea side table hack delivers. Embrace the potential of your space and explore the world of DIY furniture customization with Prettypegs. With a touch of creativity and our versatile product, you can create a stylish and efficient home office setup that's ideal for your unique circumstances.
Upgrade your home decor with this exceptional Ikea side table hack, and experience how a small DIY project can have a big impact on your living space. Discover the joy of personalizing your furniture and witness how functionality meets style in perfect harmony.
4. DIY vanity hack: Transform your bedroom with a stylish makeup table
Ready to elevate your bedroom's aesthetic with a touch of luxury and style? This DIY vanity hack is the perfect solution to vamp up your personal space. With a bit of creativity and our Estelle 700 white legs, you can create a stunning built-in makeup table that's as chic as it is practical.
Thanks to the ingenious hack from @alexandrabring, you can craft an original piece that exudes elegance and sophistication. This vanity appears far more expensive than it actually is, making it a budget-friendly yet stylish addition to your bedroom decor.
Customize the design to your liking, ensuring it complements your room's overall theme and your personal style. This DIY project is a fantastic way to showcase your creativity and transform your space without breaking the bank. Experience the satisfaction of crafting a piece of furniture that's not only functional but also serves as a statement of your unique taste.
Don't miss the opportunity to turn your bedroom into a glamorous sanctuary with this DIY vanity hack. Unleash your inner designer, and let Prettypegs' Estelle 700 white legs be your trusted partner in creating a vanity that combines practicality and allure. Upgrade your room's ambiance and treat yourself to the luxury you deserve.
5. Scandinavian design desk hack: Elevate your home office Aesthetics
Discover the beauty of Scandinavian mid-century design with this remarkable home office setup by @hemmahososs. The clever use of an IKEA desktop offers both functionality and ample storage for a well-organized workspace.
With the addition of our stylish Prettypegs pegs and a wooden chair, this desk hack instantly imparts a minimalistic and timeless appeal to your interior. The clean lines and neutral tones create a calming and productive atmosphere, making it the ideal spot to enhance your work-from-home experience.
Bring the elegance of Scandinavian design into your home office with this practical yet visually appealing desk hack. Experience the perfect blend of form and function as you create an organized and inspiring workspace. Embrace the simplicity and sophistication that Scandinavian design offers and take your home office aesthetics to the next level.
6. Transform your hallway with an organizing DIY table hack
Say goodbye to messy hallways with this clever and practical hack! This DIY table is the key to organizing all your hallway essentials, including keys and more. Embrace the magic of upcycling with a vintage card catalogue that has been beautifully revived through a touch of paint and the addition of our Estelle 700 Teak legs.
This inspiring DIY project, inspired by the creative genius of @graceinmagnolias, is the perfect solution for every family looking to regain control of their hallway. It combines style and functionality, making your entryway not just organized but also aesthetically pleasing. Get ready to transform your hallway and make a lasting impression with this fantastic hack.
7.Budget-friendly home office transformation: IKEA desk hack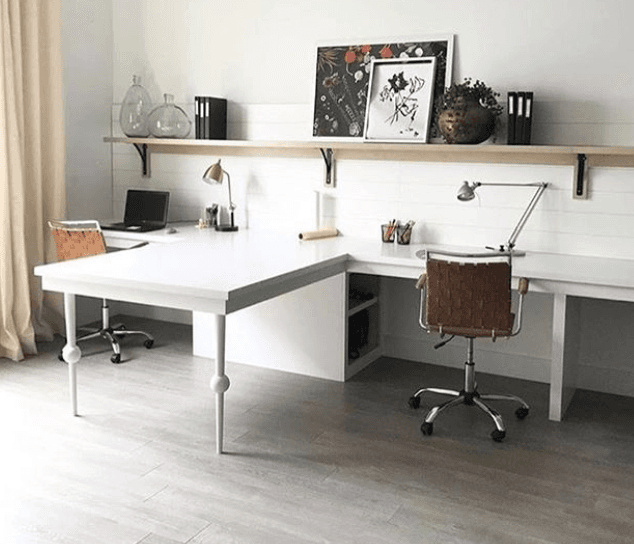 Unleash your creativity and create a budget-friendly home office for two with this remarkable IKEA desk hack! With the right approach, any spare room can be transformed into an inspiring workspace. Make it your own by getting a custom desktop and adding our Otto 700 White legs to recreate this chic look.
Thanks to the ingenious inspiration provided by @_courtneyshearer, you can embark on a home office transformation that not only saves you money but also elevates your work-from-home experience. Whether it's for remote work, studying, or pursuing your passions, this hack will help you design a home office that reflects your style and boosts your productivity. Get ready to optimize your workspace without breaking the bank!
8. Creating a stylish home office space for two: Design inspiration by @interiorbex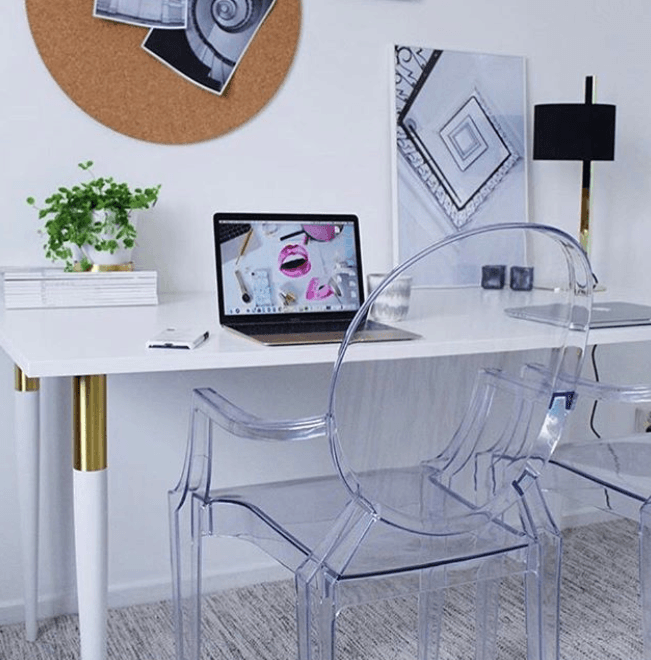 Get inspired by @interiorbex's super sophisticated home office design! The unique combination of transparent chairs and brass details creates a stunning and contemporary aesthetic. To recreate this elegant home office setup for two, all you need is a long desk top and our Estelle 700 legs.
Discover how easy it is to transform your workspace into a stylish and functional area for two. With a dash of creativity and the right design elements, you can make your home office a place where productivity meets sophistication. Explore the possibilities and design your ideal workspace today
9. Unleash your inner workaholic with this IKEA desk hack by @witanddelight_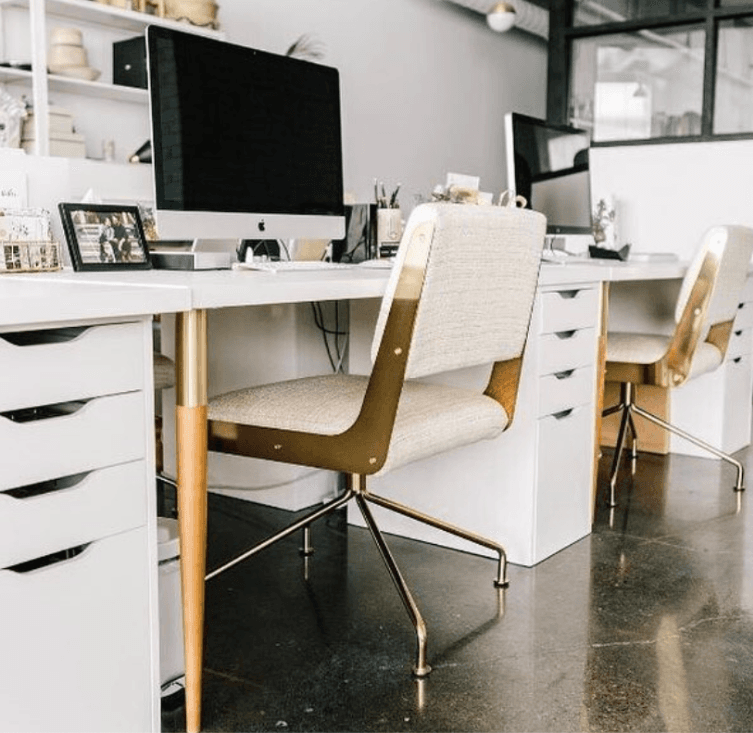 Who wouldn't want to be a workaholic with an office like the one designed by @witanddelight_? Using a few IKEA desktops and our Teak and Brass legs, they've created the perfect office space that's both stylish and functional.
Discover the magic of a well-designed workspace that enhances your productivity and inspires creativity. Get inspired by this clever IKEA desk hack and transform your office into a place where work meets passion. Your dream office is just a few DIY steps away!
10. Efficient IKEA DIY hack: Optimize your desk space for college studying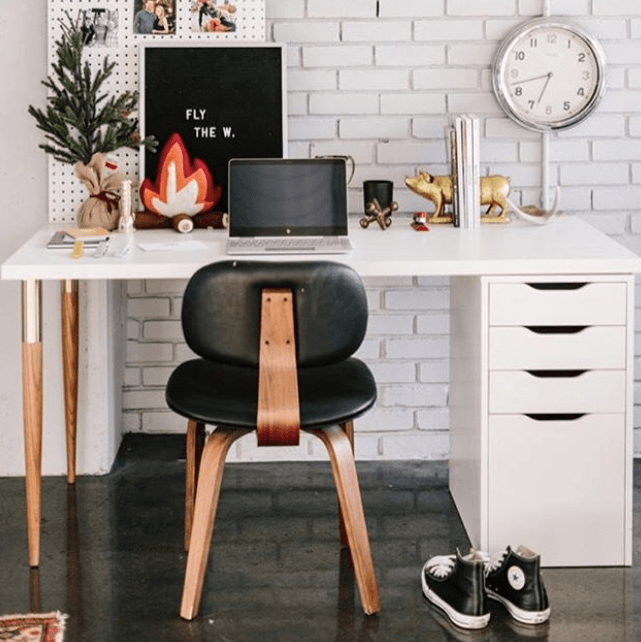 Attention college students: it's time to elevate your study space with this effortless IKEA DIY hack that offers plenty of desk room for all your office essentials. This simple yet effective solution not only provides practicality but also enhances your productivity. We'd like to extend our thanks to @witanddelight_ for the inspirational idea.
By adding our Estelle 700 Teak legs and a touch of creativity, you can transform your desk into an ideal location for focused study sessions. With ample space and a customized touch, you'll find yourself feeling more productive than ever before.
Are you looking for more ways to personalize your study area? Consider creating a pinboard to help keep your workspace organized. Start with a piece of plywood featuring pre-drilled holes, readily available at your local hardwood store. Pick a color that resonates with your style, and let your imagination run wild as you decorate and organize your desk space to make studying a breeze!