Embracing the marvels of Scandinavian design: loppis finds and creative mixing for a unique home
Feel the allure of Scandinavian design, renowned worldwide for its simplicity and uniqueness. At Prettypegs, we take immense pride in our Swedish roots, and we're here to share the magic of this design philosophy with you. Just like Ida Hansson (www.nordicremake.se), we encourage you to embark on your own creative journey.
Say hello to the world of flea market finds, or as we Swedes fondly call it, 'loppis.' In the treasure troves of loppis, you'll discover a world of possibilities. Let your creativity run wild as you mix and match these unique finds to infuse new life and brightness into your home. Discover how the elegance of Scandinavian design can transform your living space, bringing simplicity, character, and a touch of creativity into your decor.
In this article you will learn how Ida hacked a pre loved storage unit, a Ivar cabinet and made a workspace for her kids.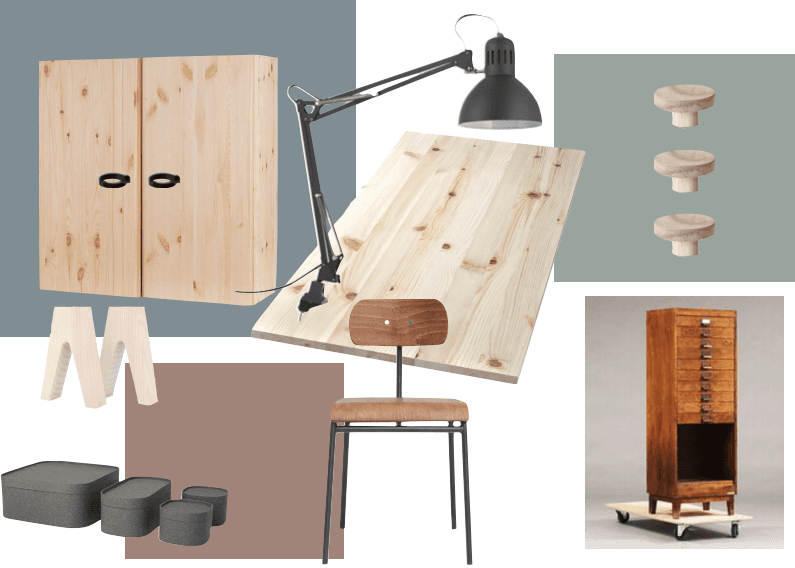 "What could be more inspiring than crafting a creative haven for your kids, right? I'm a mother to two incredible boys, aged 7 and 9. Until recently, their rooms served as places for rest and play, with no dedicated space for drawing or homework. In our cozy, small home, I decided to get clever and construct smart, functional desks for them. They both share a love for similar things, but I wanted to give their spaces a personal touch, so I designed two different styles, rooted in a common base.
As someone who enjoys the satisfaction of a good do-it-yourself project and values sustainability, I began by contemplating how I could repurpose something old I already had. This approach blends perfectly with my fondness for sustainability. I added a pair of new cupboards from IKEA, along with some wooden boards, to complete the look.
Every project I embark on starts with a mood board (just like the one in the top here); it gives me a visual framework to envision the bigger picture. As I journey through this project, I'll be sharing my process, ideas, and inspirations for creating functional, appealing, and inspiring spaces for my boys. Stay tuned!"
Bringing new life to an old file cabinet: stylish DIY transformation

"You know what's incredibly satisfying? Taking something old and giving it a fresh, trendy look. In my case, it was an old file cabinet that had seen better days. But with a touch of creativity and the addition of new HILLEVI legs in a beautiful natural ash finish, this cabinet was on its way to becoming a statement piece.
To make it blend seamlessly with the room's aesthetics, I decided to paint it in a calming blue-green shade that perfectly matched the walls. This was the transformative step that took it from drab to fab. And let's not forget the LILIAN knobs I added to complete the makeover – the finishing touch that breathed new life into this once-neglected piece of furniture.
The sense of achievement and the satisfaction of upcycling are truly unparalleled. It's amazing how a bit of imagination, some stylish furniture legs, and a fresh coat of paint can turn something old into a stunning, on-trend addition to your space. Keep following my DIY journey for more inspiring ideas and transformations!"
Stylish and practical storage solutions: IKEA IVAR transformation

"In the pursuit of creating an organized and clean kids' room, storage is key. I opted for IKEA's versatile IVAR for this purpose, which I customized to suit my aesthetic vision. I started by giving it a soft beige color to create a warm and welcoming feel in the room.
To elevate its look and add a touch of elegance, I chose the HILLEVI legs in a chic black finish. These legs not only provide support but also give the storage unit a stylish, elevated appearance. The STINA handles in black were the final detail, adding a hint of sophistication to the piece.
What I love about this storage solution is that it offers a mix of open and hidden storage, making it easy to keep the room looking clean and minimalistic. Having a place for everything, neatly tucked away, simplifies the cleaning process and helps maintain the room's organized vibe.
But that's not all. The bunk bed you see here is also a DIY creation. It's a brilliant way to maximize floor space in the room and create a fun, cozy area for the kids. Combining stylish, customized storage with a smartly designed bunk bed, this room strikes a balance between form and function. Stay tuned for more exciting transformations and ideas as I continue my DIY journey!"
"Here under is the image board I used for my other boys room."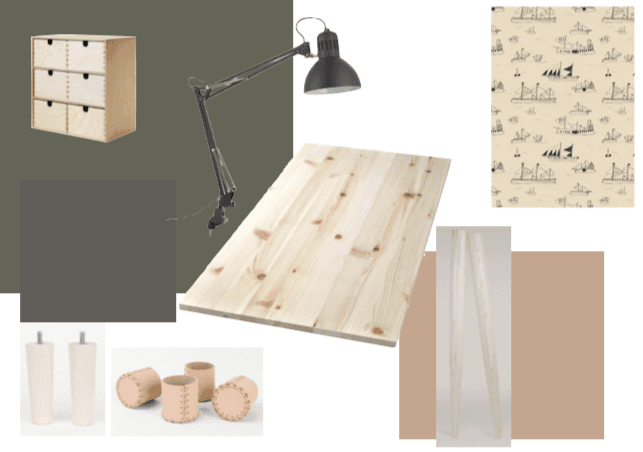 IKEA Moppe small storage hack and crafting a stylish new table

"I couldn't resist the opportunity to breathe new life into another piece of furniture in the adjacent room. This time, I decided on a bold and stylish transformation. The old cabinet received a fresh look with a sleek varnish with some white paint.
For the table top, I chose the CARL legs in an ash finish, accentuated by charming natural leather socks. These legs add a touch of elegance to the cabinet while keeping it firmly grounded. The combination of natural materials and soft colors creates a harmonious aesthetic that's both inviting and trendy.
The desk is a DIY project I'm particularly proud of, featuring a pine board paired with Prettypegs' CARL 700 mm legs. This setup offers a functional and stylish workspace that seamlessly blends with the room's overall design.
Adding to the room's charm is the IKEA-hack stool, FROSTA, customized with a lovely peach color and adorned with fabric from Fine Little Day. To keep small items organized, I turned to IKEA's MOPPE, which provides the perfect storage solution.
To infuse some playfulness into the room, I mixed and matched various BILL knobs, creating a whimsical and dynamic appearance. This room makeover is a testament to the transformative power of design and creativity."
Savvy space-saving: IKEA Bestå nightstand upgrade with Prettypegs

"I wanted to make the most of the floor space in my home, and one of the solutions I came up with was using an IKEA Bestå unit as a nightstand. It's a clever way to add storage without crowding the room. To give it a unique and stylish look, I added Prettypegs Front Layers in white, along with their Bodil knob. I love the dramatic contrast of black and white, especially against the Bestå unit's irregular striped front.
The best part of this project is how easy it is to do. You don't need to be a DIY expert to achieve a personalized and space-saving nightstand like this. Whether you have a small room or just want to make the most of your available space, this idea can work wonders. So, I hope you find inspiration in this simple yet effective solution. Give it a try and transform your space with ease!
Stay tuned for more exciting updates and ideas as I continue to rejuvenate spaces with my unique touch!
XO//IDA"