From Boring to Brilliant: Top IKEA Kallax Hacks That Will Blow Your Mind!
When it comes to versatile and functional furniture, the IKEA Kallax is a true champion. This unassuming storage unit has won the hearts of homeowners worldwide with its endless possibilities for customization and utilization. From being a kids' storage solution to a TV stand, hallway organizer, bookshelf, bedside table, and more – the IKEA Kallax effortlessly adapts to your needs. Let's delve into some of our customers' fantastic Kallax hacks from around the world!
Kallax - The Perfect Blend of Storage and Display for your Living Room
Your living room is a reflection of your personality and a space to showcase the things that matter most to you. Enter the IKEA Kallax sideboard – a versatile and stylish solution that seamlessly combines storage and display.
To match the rest of the room we painted the Kallax in a light grey paint and added our Bodil knobs and Greta legs, both in matte black.
Check out all IKEA Kallax shelving units here.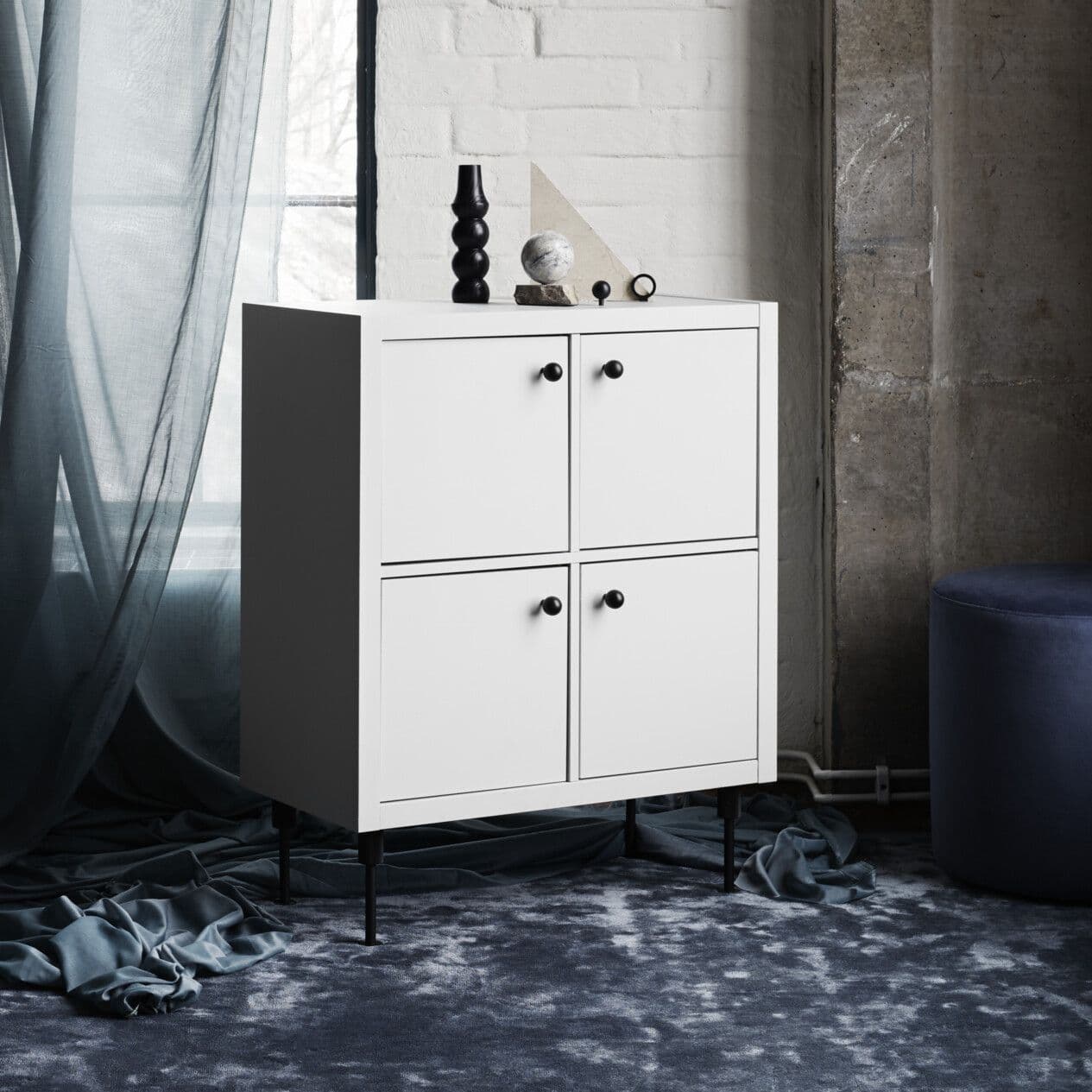 Elevating Your Kallax Sideboard with Fluted Trims
Talented DIYer Kim Bui with the instagram account @XOmyhome, transformed her IKEA Kallax unit into a true beauty with some fluted trims, glue, and bit of white paint. And to to elevate the Kallax shelf even more, she added our Hedvig Little furniture legs and Britta handles in shiny brass. Read the whole Kallax tutorial and indulge in tons of other inspiration over at her blog.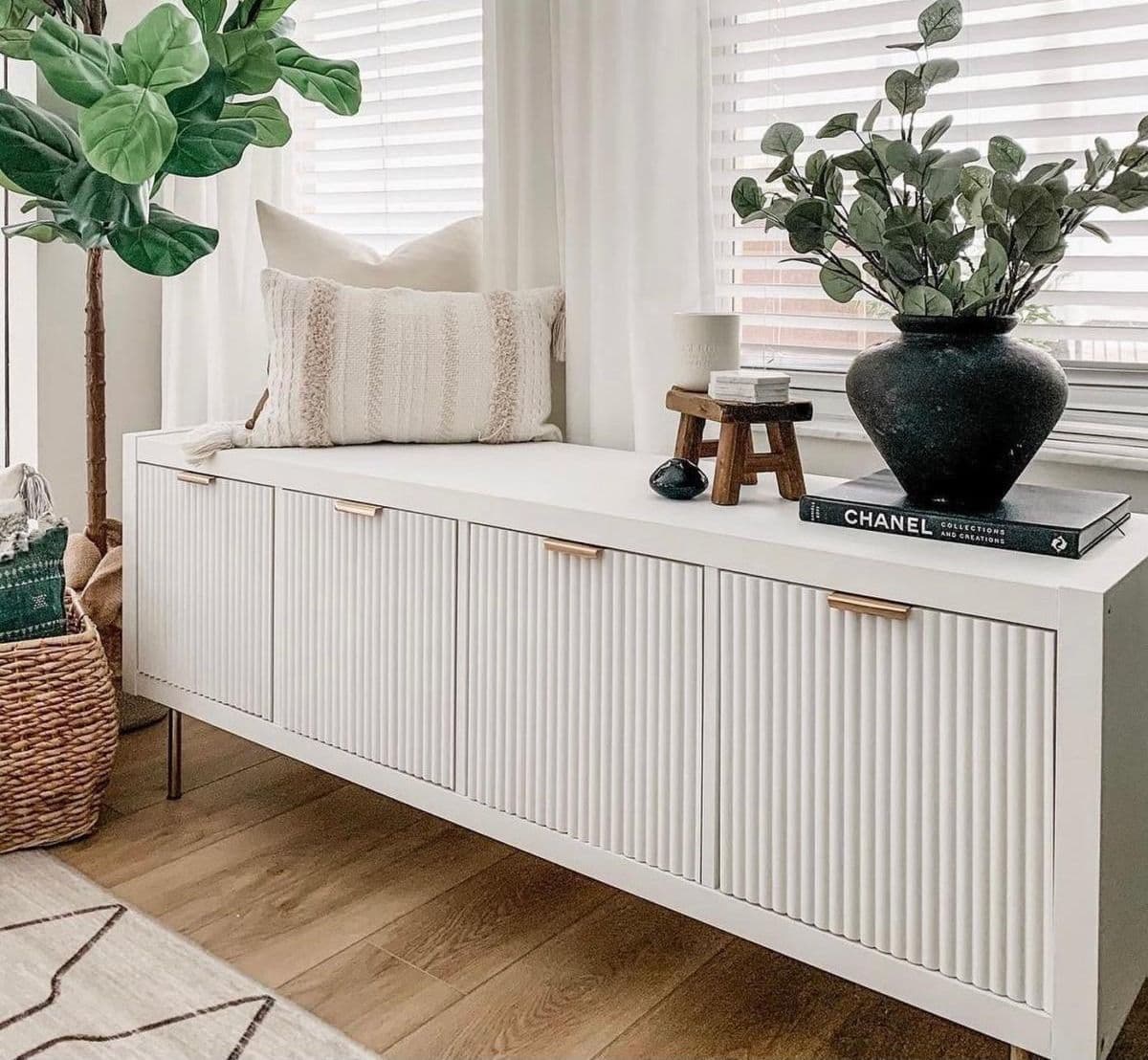 Hedvig Little 160
175.00 SEK
Turning a Kallax Unit into a Stylish Plant Stand
Dennis Velencia, a talented interior stylist, handpicked our Dagmar 170 and ingeniously repurposed the Kallax unit into a charming plant stand, designed for proudly displaying your favorite plants, vases, and other beautiful decor items.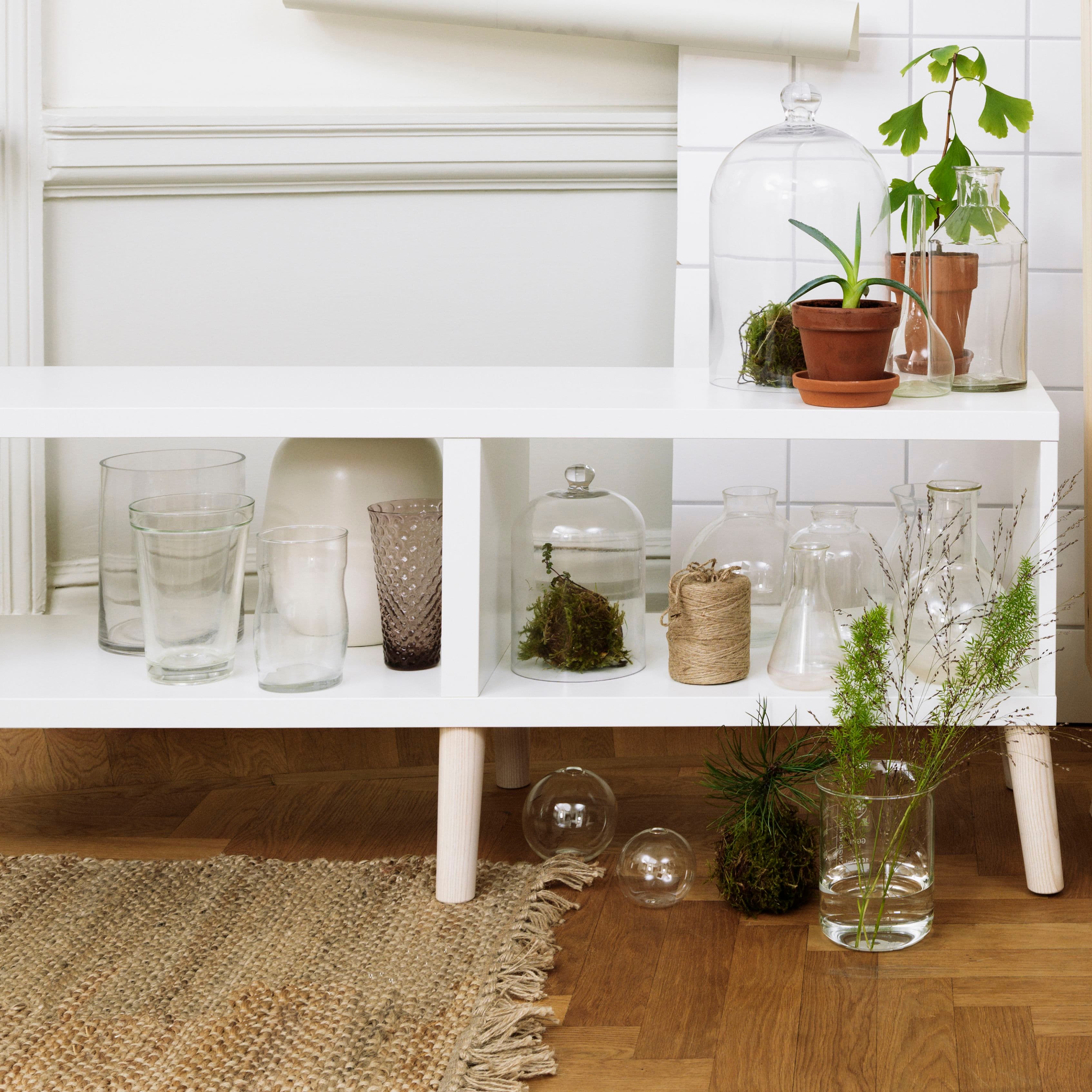 The IKEA Kallax as a TV stand with Style
Who says a TV stand or media unit has to be dull? The IKEA Kallax breaks the mold by offering a chic and minimalist option. Its sturdy structure is an ideal foundation for your entertainment setup. Whether you have a TV or a vintage record player the Kallax provides great storage for any media devices, and even your favorite decor pieces.
US Web magazine THE EVERY GIRL shows different ways to hack the Kallax unit as a TV stand incorporating our Carl 170 legs in ash natural.
Danish Interior Architect StudioLokken hacked the Kallax shelf with our Otto 100 and turned the Kallax unit into a true Scandinavian minimalistic piece.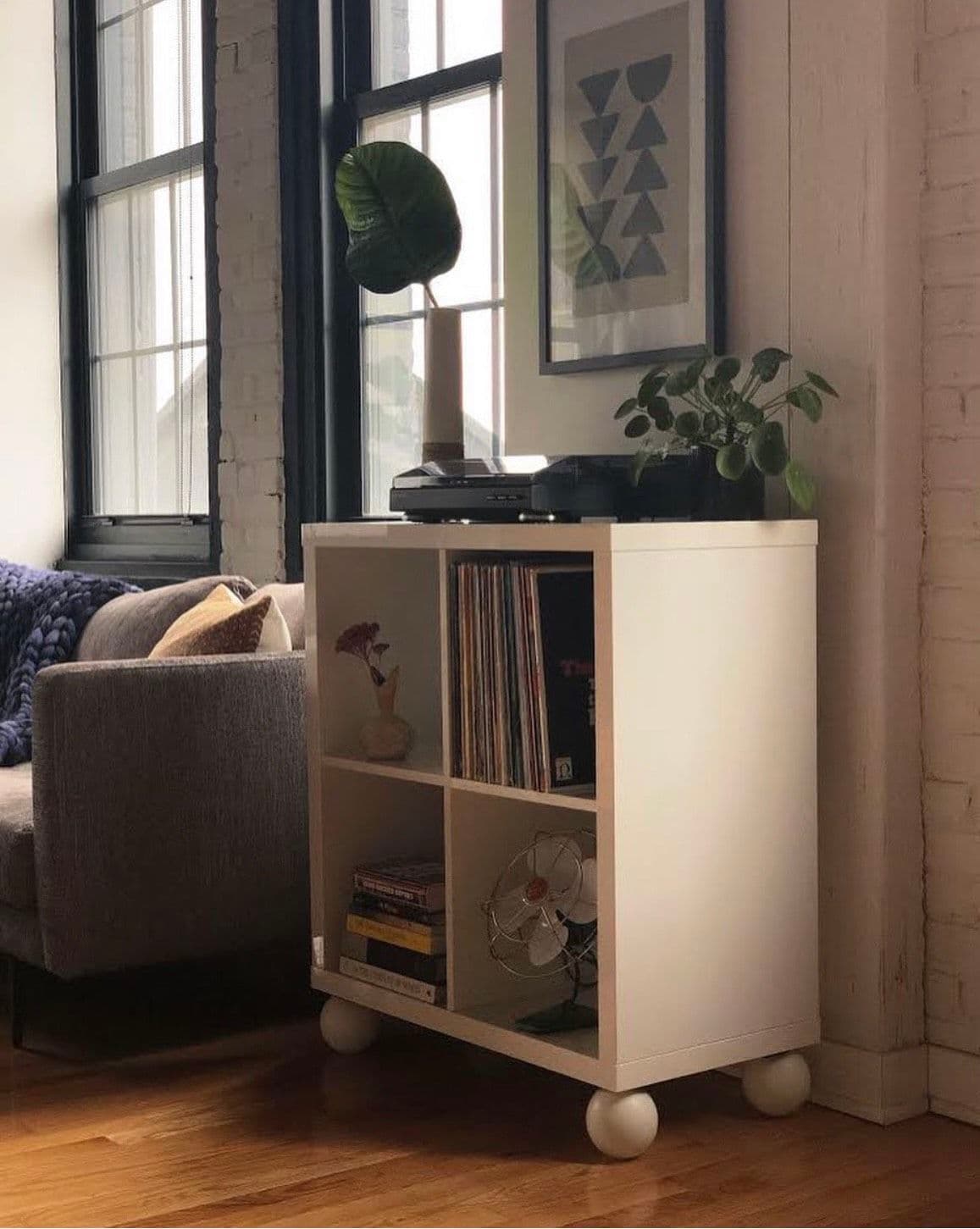 Kallax as a Room Divider and Bed Side Brilliance
Say goodbye to traditional bedside tables and embrace the IKEA Kallax's versatility. By placing it next to your bed, you'll have plenty of storage for your nighttime essentials as well as well as a stylish room divider for smaller spaces.
Swedish customer Karin got her hands on the older version of Kallax - called the Expedit, and added our Hedvig little in shiny chrome for some extra height and style. We're totally feeling the calm and warm tones in this room!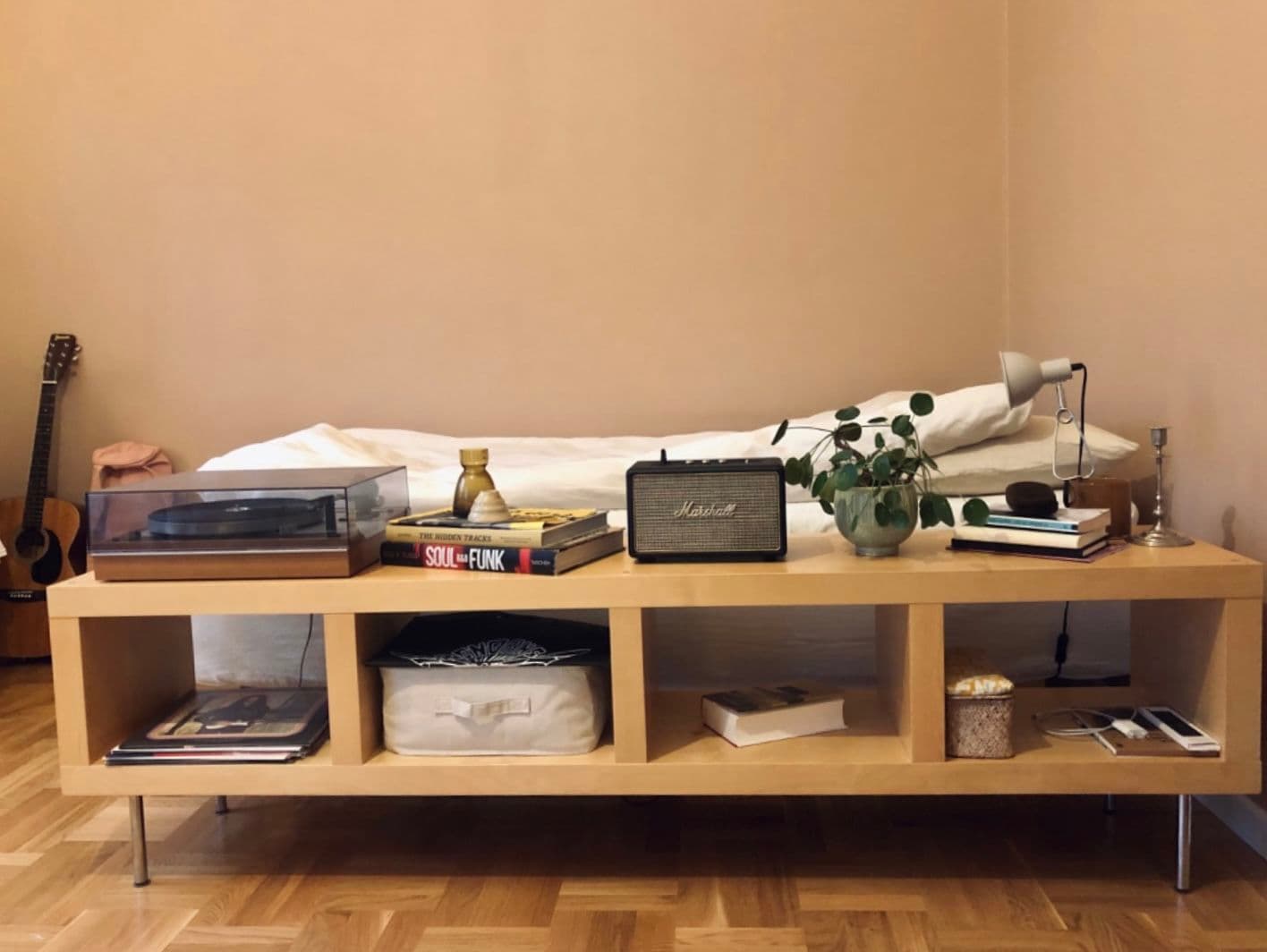 Hedvig Little 160
175.00 SEK
Kids Storage Wonderland
Keeping a kid's room tidy is no small feat, but the IKEA Kallax rises to the challenge. Its cubby-style compartments are perfect for storing toys, books, art supplies, and more. By adding colorful bins or baskets, you can turn the Kallax into an organized wonderland that your little ones will love to explore.
This particular Kallax hack by interior studio GrohPlayrooms is adorned with colorful inserts that instantly catch the eye, adding a playful touch to the room's decor. To complete the look, it stands proudly on Prettypegs' Otto 100 legs in a soft, whimsical shade of cloudy pink.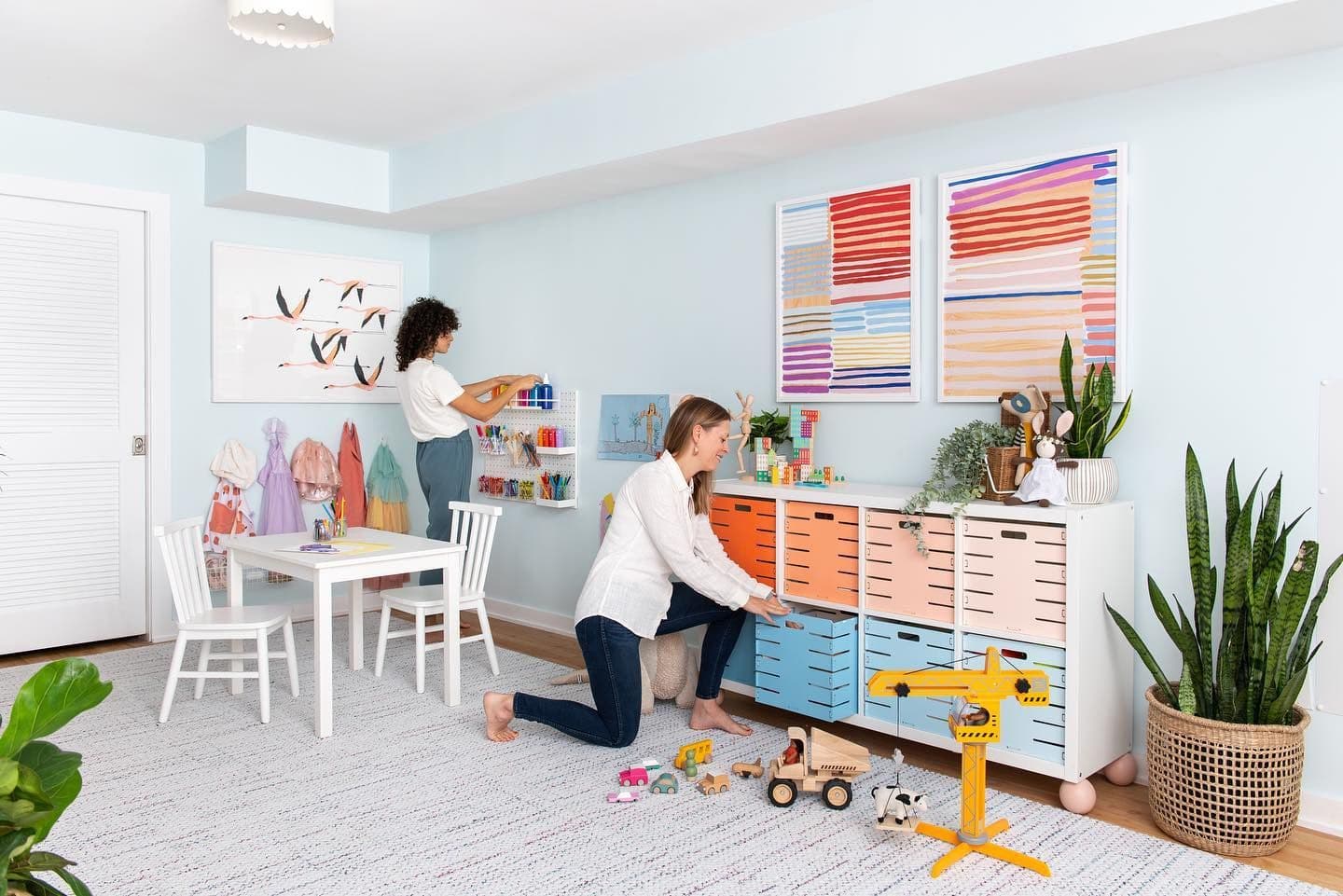 Partially Open and Closed IKEA Kallax for Organizing Kids' Toys
UK blogger Ines Vautier, gave her old Kallax shelf a great facelift with the perfect shade of pink, Prettypegs Svea legs, and her own home made plywood handles. We're so impressed:) If you're not up for crafting your own handles, check out our similar Lilian Knobs in Teak Finish.
Check out her whole Kallax tutorial.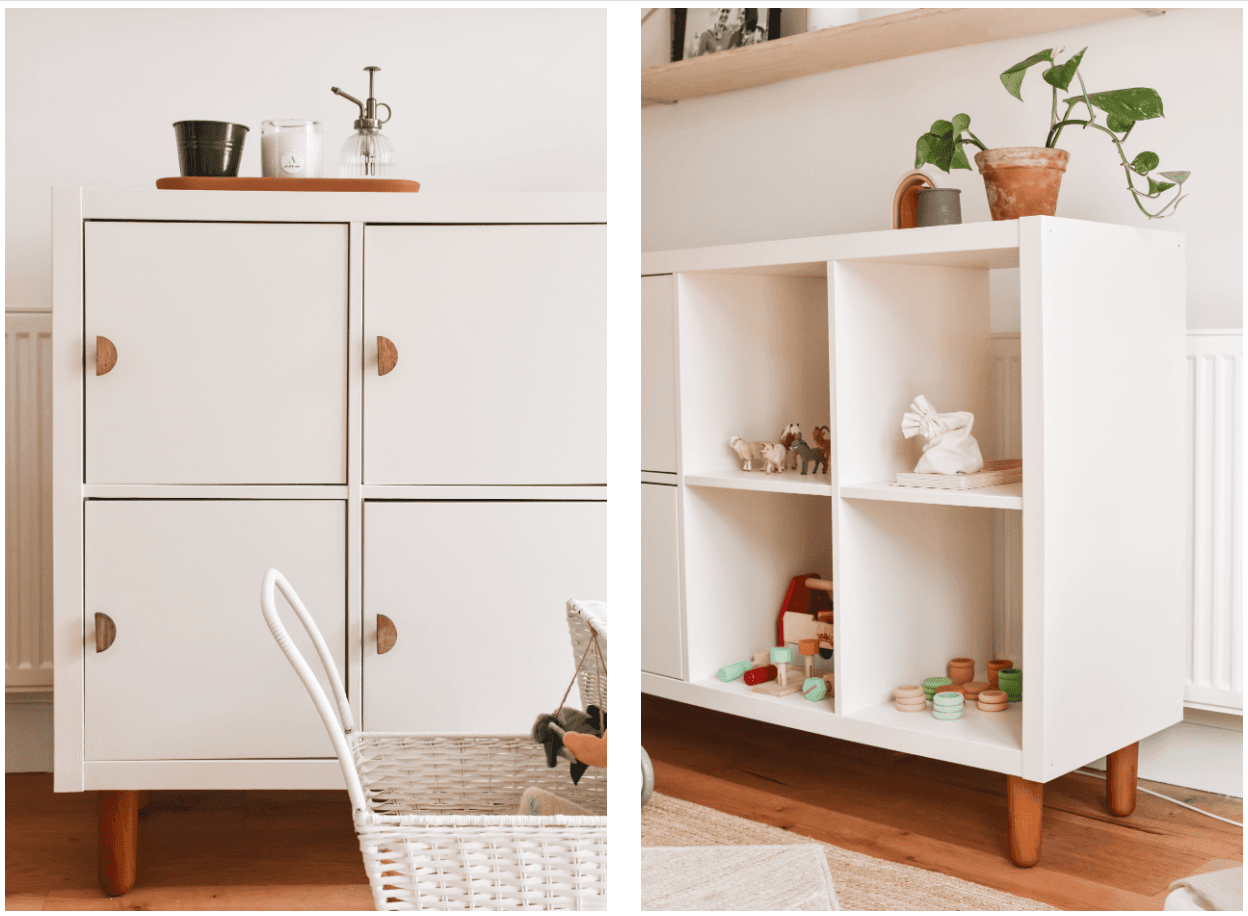 Organizing Toys with IKEA Storage Bins!
This IKEA Kallax hack is both functional and aesthetically pleasing. By incorporating IKEA storage bins, you can effortlessly organize your toys, keeping everything in its place. Elevate the look with our Folke little legs in ash natural, infusing a touch of minimalistic Scandinavian charm into your home. This clever DIY solution not only optimizes storage but also adds a great twist to your living space.
Folke Little 170
155.00 SEK
Kallax - A Hallway Hero
The entryway sets the tone for your home, and clutter is never a good introduction. Transform your hallway with the IKEA Kallax, painted in a soothing faded grey color and enhanced with IKEA leather pulls and Prettypegs Siri 300 legs, using it as a catch-all for shoes, bags, and accessories. You can also add some decorative touches like plants and framed photos to make the space welcoming.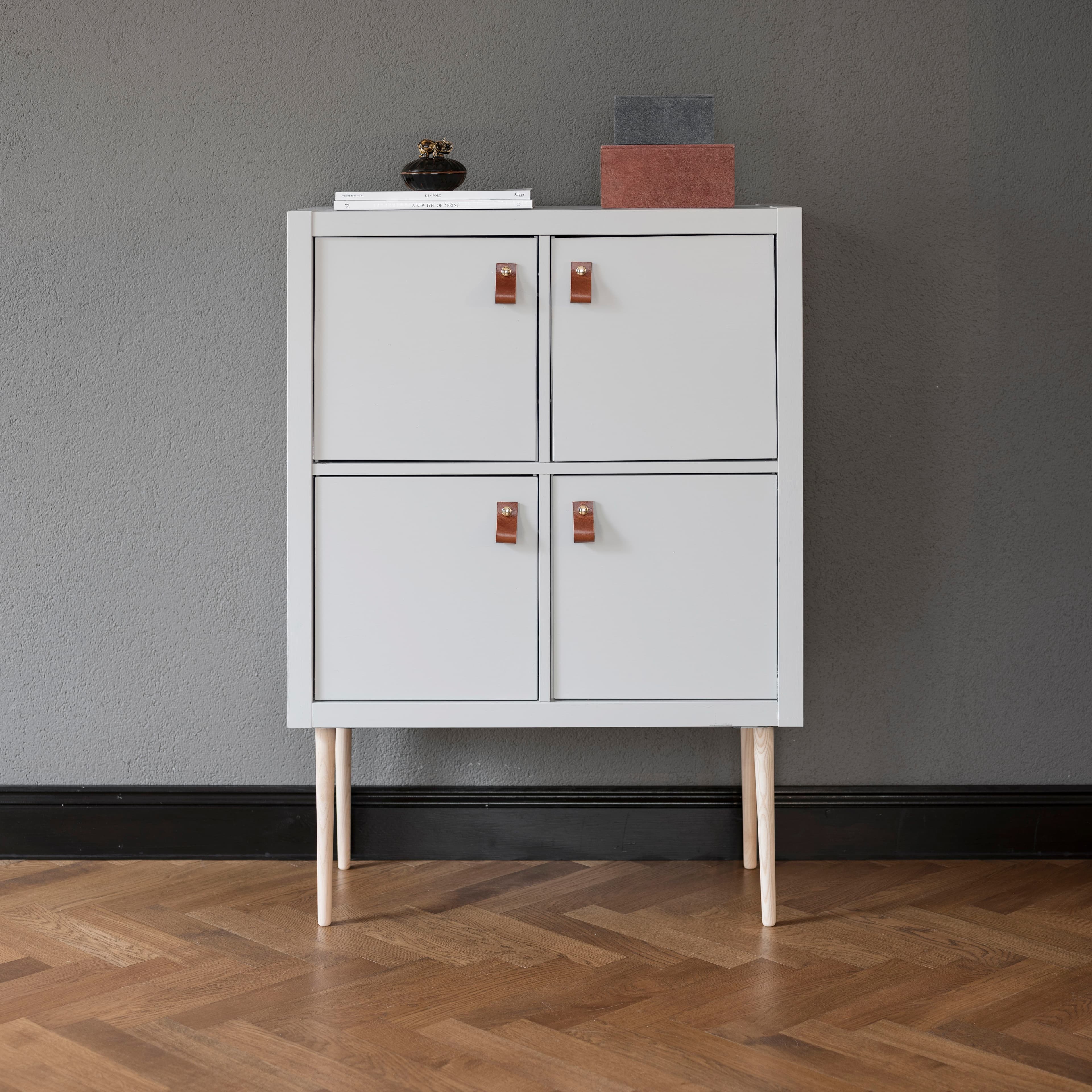 Chantal from @wohnenbijchan opted for an open Kallax and gave the wall behind it a contrasting color, instantly harmonizing the room. To enhance organization and introduce a touch of greenery, she incorporated drawers and plants. Completing the look, she added Kurt 180 legs in Ash natural, adding a beautiful and natural finish to her creative transformation.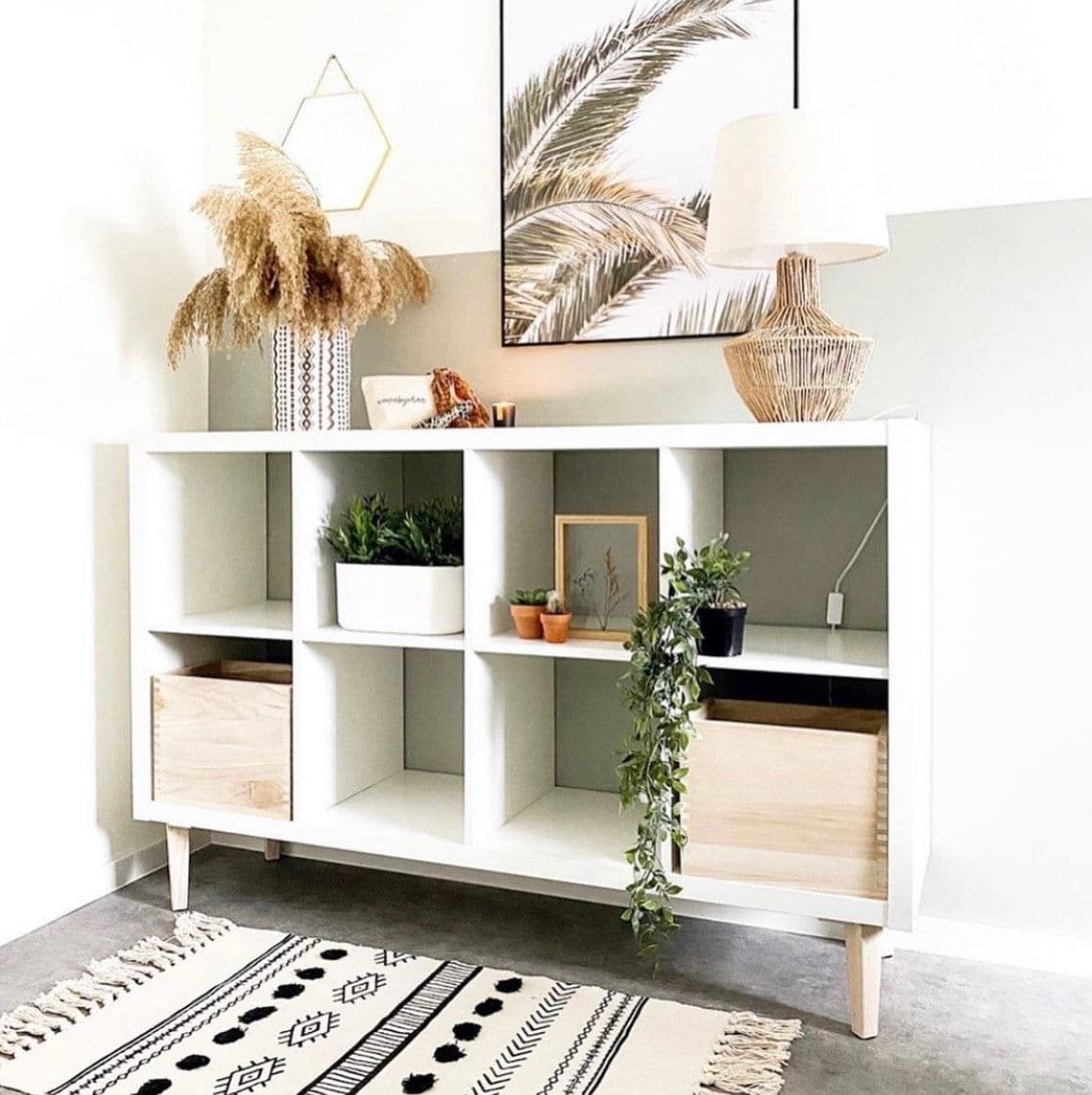 Your Perfect Kallax Bookshelf Solution
The IKEA Kallax unit, with its timeless design and versatile functionality, makes for an excellent bookshelf. Its spacious cubbies are perfect for neatly organizing books of all shapes and sizes, creating an inviting and organized reading corner. We love how talented Art Director @JessicaBeau added our Elsie adjustable legs to her Kallax bookshelf, which not only added height and style, but also prove invaluable for those dealing with old and uneven floors, a common challenge in older houses.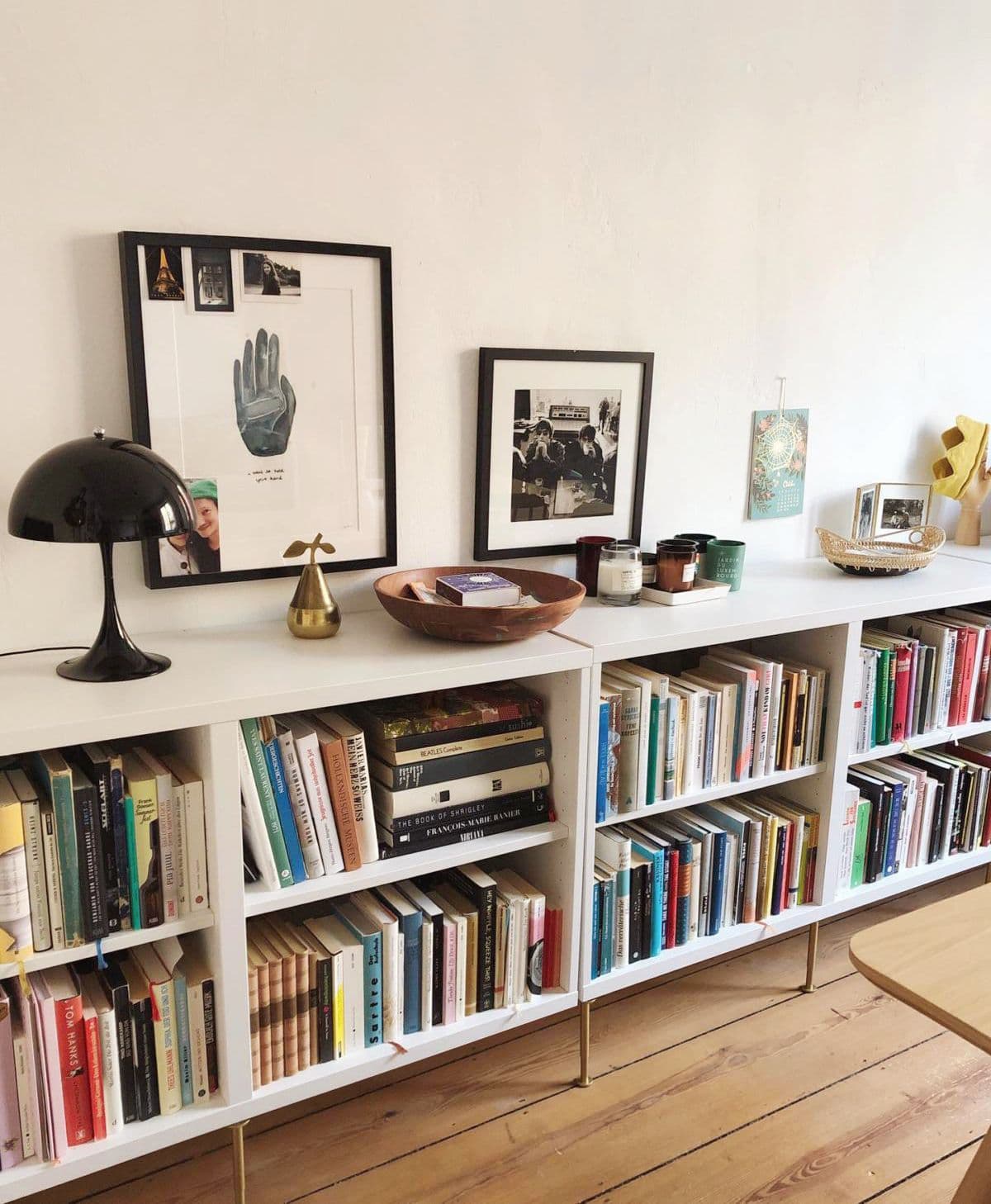 How to paint IKEA Kallax
Painting IKEA Kallax made from laminate can be tricky due to its shiny surface, which doesn't easily hold paint. To tackle this, selecting a quality primer is crucial for ensuring paint adhesion. We applied two coats of primer, followed by two coats of your favorite color. Allowing at least 24 hours between coats for the best results is essential. Patience during this process is key to achieving a long-lasting finish!
Se our whole IKEA Kallax collection!