We are super happy and proud to announce that we are launching our first collection of ceramic knobs together with talented NYC potter - Helen Levi!
Ribbed and unglazed, The Pottery Collection is made from tinted clay and have a super tactile texture that really brings out the uniqueness of ceramics. The knobs were inspired by one of Helen's previous designs which she calls "Corduroy" where clay pieces are made using an extruder, - basically a giant pasta maker - that pushes clay through a shaped die.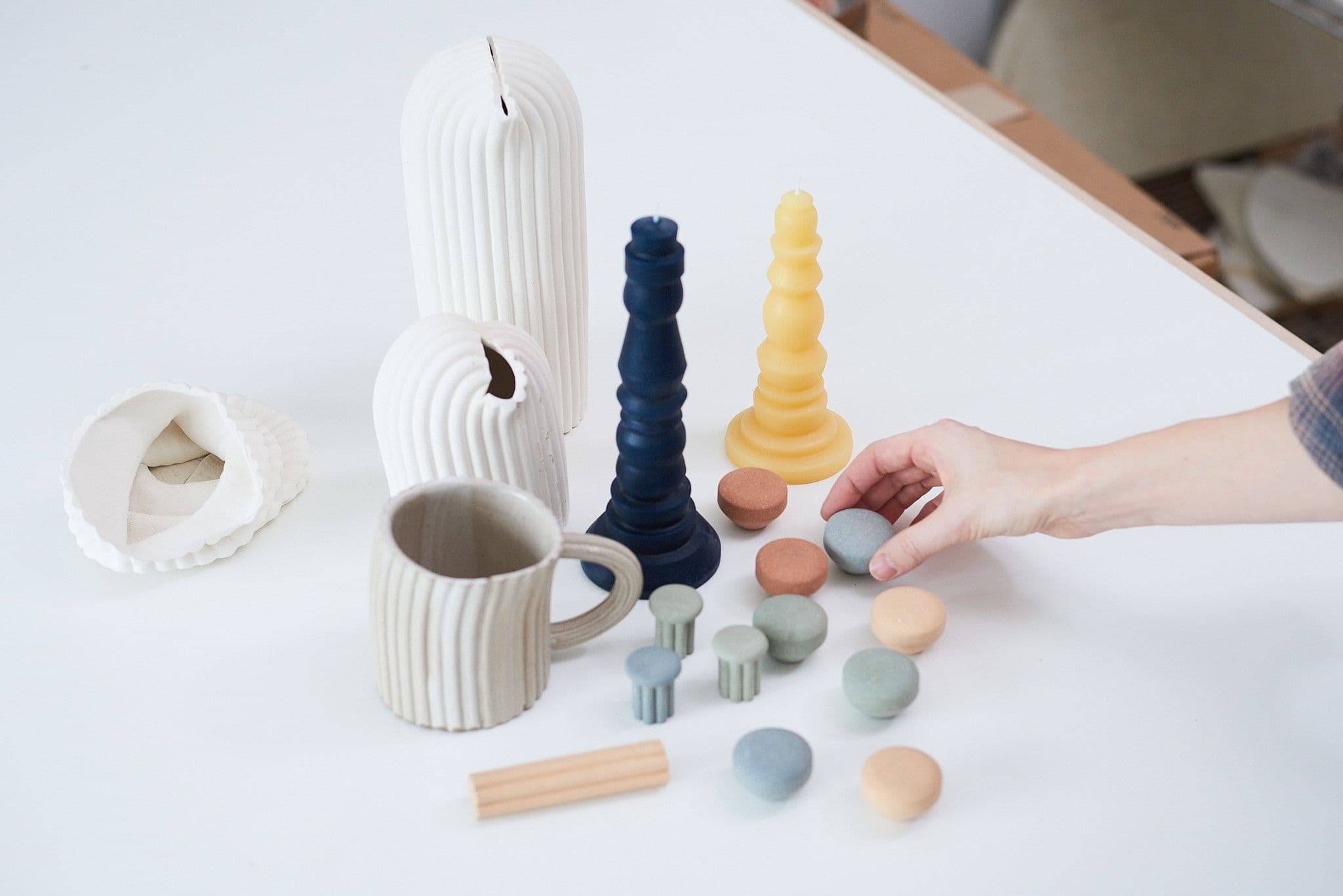 Get to know Helen!
Helen is a native New Yorker that crafts her line of functional ceramics in her Queens studio with the help of two studio assistants. Drawing inspiration from the physical process of working with clay, Helen utilizes several methods of production to achieve her designs.
Earlier this year, we stopped by Helen's inspiring studio (virtually of course) in Queens to asks some questions and take some pics. And it turns out, we all want to become ceramicists living in NYC now ;)...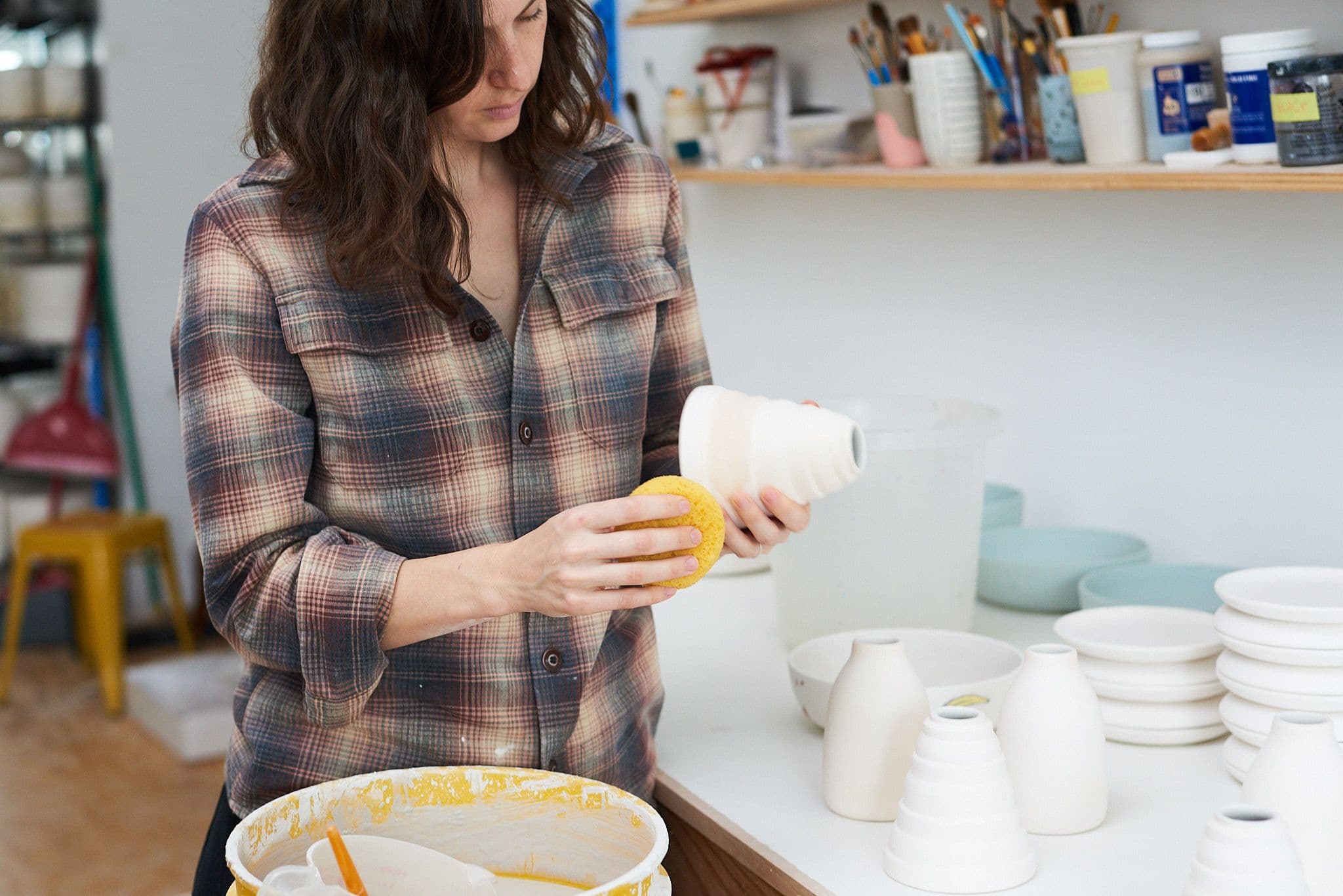 How did you become a ceramicist?
Pottery has been a hobby of mine since I was a kid, something I learned in afterschool classes growing up. I started selling my work almost 8 years ago
What is it about ceramics that makes you love it so much?
What I love about ceramics is the mix of form and function. There's a balance with any dish I make of the style and design, but also a desire to make something useful that someone would reach to every day for their cup of coffee.
Where do you look for beauty and what inspires you the most when designing ceramics?
I find the most inspiration from the process of making ceramics. There are so many different ways to work with clay - in my studio, that includes slipcasting, throwing on the wheel, and handbuilding, among others. I find I'll be working on one idea, and in doing so start to imagine other variations and things to try. I love making changes on the fly and letting the process be fluid.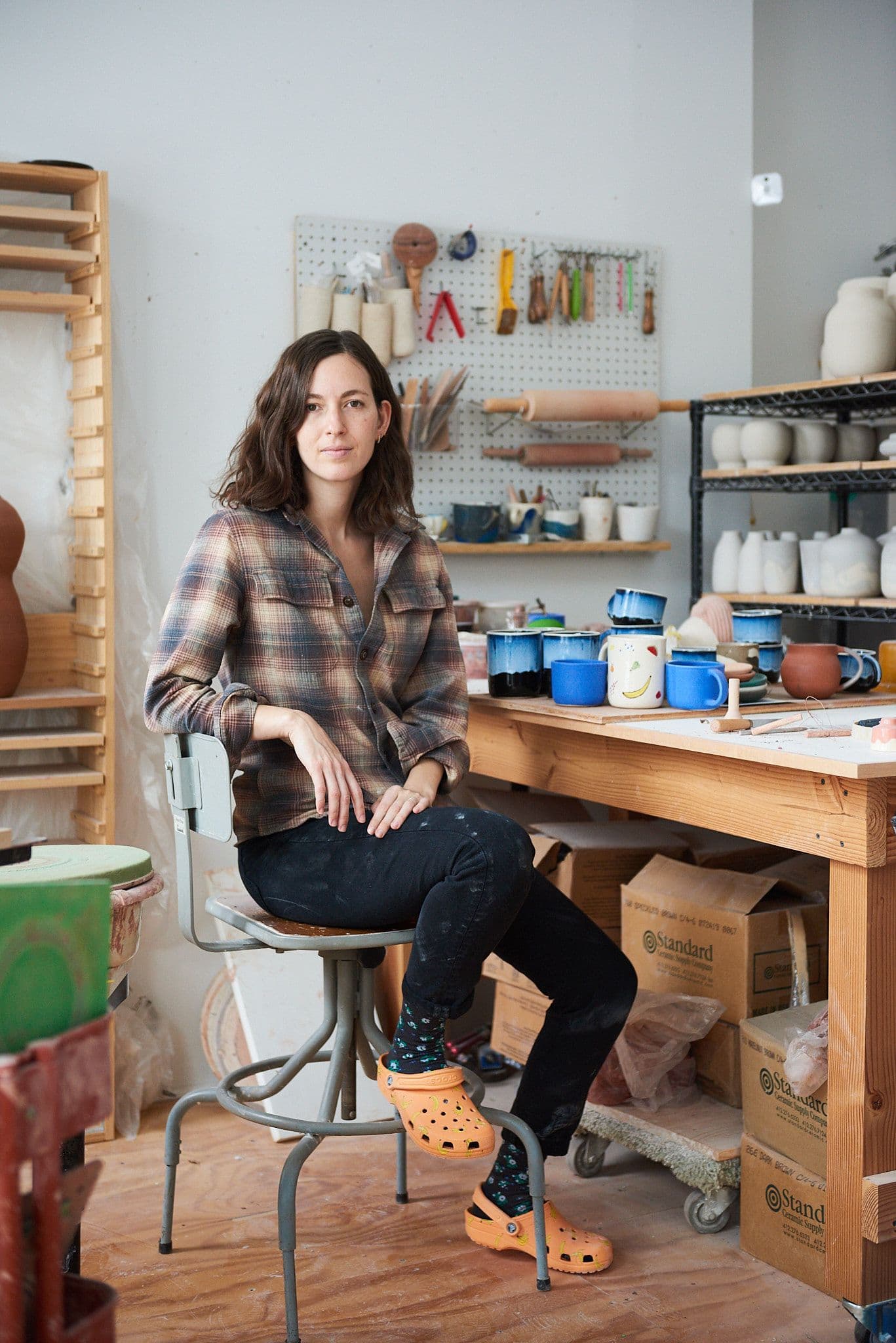 What is your favorite part of the process when making your designs?
One unique thing about ceramics compared to other mediums is that because there's so many steps to the process, you really cannot know what the piece will look like until the very final firing, after you've already spent a lot of time with it. This is especially true with glazing. I studied photography in college and it reminds me of getting film developed; you know what images you've taken but you don't know until they're printed if your idea really came across. And the same is true for ceramics. I love that final reveal.
What is it that you like about Prettypegs?
Like most people, I have purchased many IKEA pieces over the years. In the past I've bought vintage knobs to make them more special because I didn't know about Prettypegs - I love that people can make an affordable upgrade to their furniture to have more design in their home.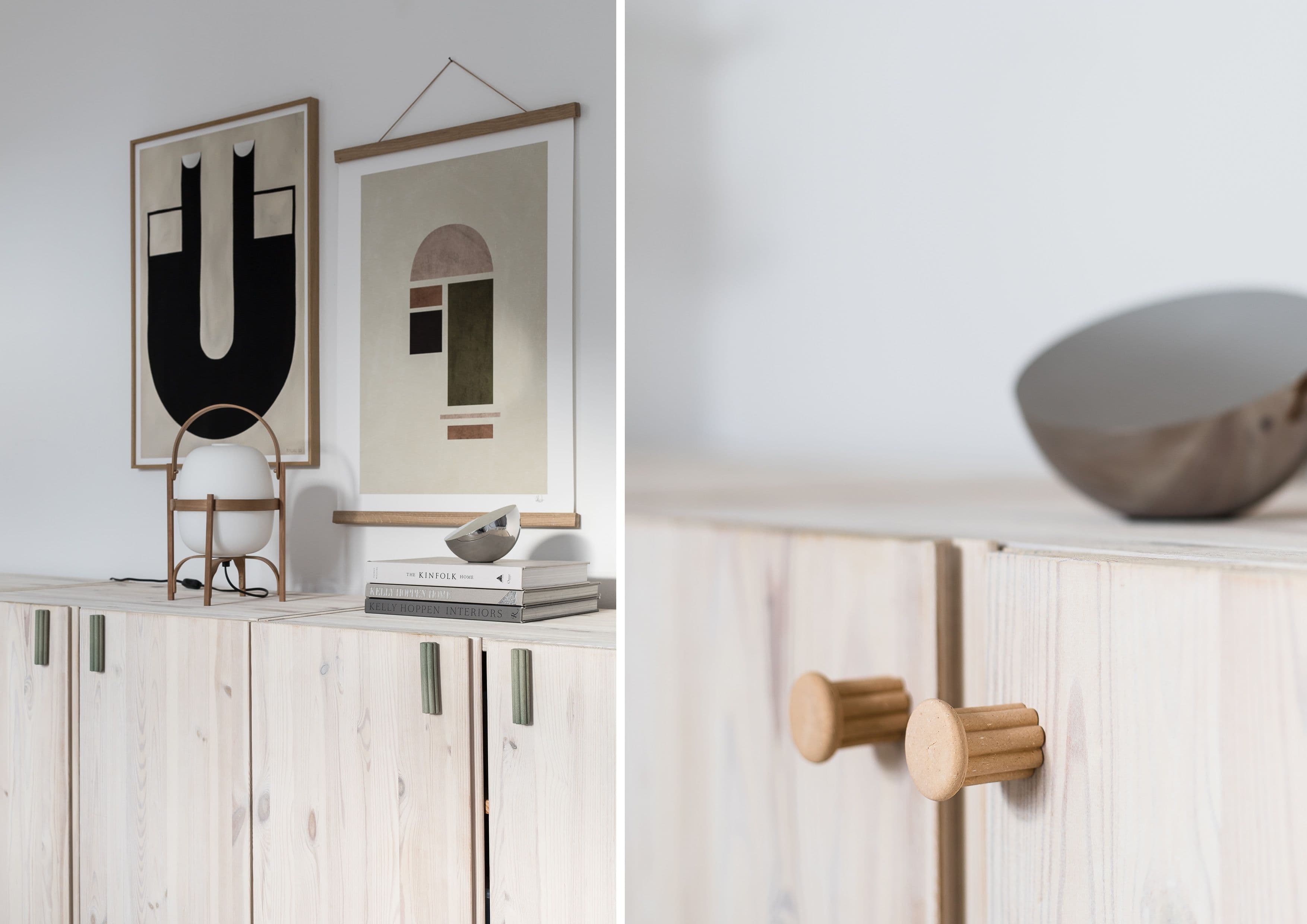 Why did you want to make a collaboration with Prettypegs?
Making knobs felt like a natural extension of my work as I've been working on more home goods - like tiles and candles- but I'm super grateful to Prettypegs to manage production because I wouldn't be able to manufacture them in an affordable way myself.
What inspired you when designing the Pretty Pottery Collection?
I wanted to apply this new-to-me process of knobs to one of my existing designs. The jumping off point for me was this super tactile ribbed design I call Corduroy. I make these ribbed pieces with an extruder, which is kind of like a pasta machine, where you push clay through a silhouette cut into a metal 'die'. I had a metalworker friend make me a custom die which produced the scale of the ribs, and then I used those extruded pieces to make mugs, planters, tiles, and more!
About the Pottery Collection:
The Pottery Collection consists of two knobs; Corduroy Pin and Corduroy Knob, as well as a longer handle called the Corduroy Bar. They all come in the colors Terracotta, Sand, Dove Blue and Sage Green, and you can either choose to go for a more subtle look with knobs in the same model and color - or mix and match models and colors all together for a more personal look! Prices from 18USD.
"We're always looking for new inspiring ways for people to personalize IKEA furniture. I had admired Helen's work on Instagram for a while and since we were interested in adding ceramics to our offer, I simply reached out asking if she wanted to design some ceramic knobs together with us, which I'm super happy she did!, says Jana Cagin, founder Prettypegs"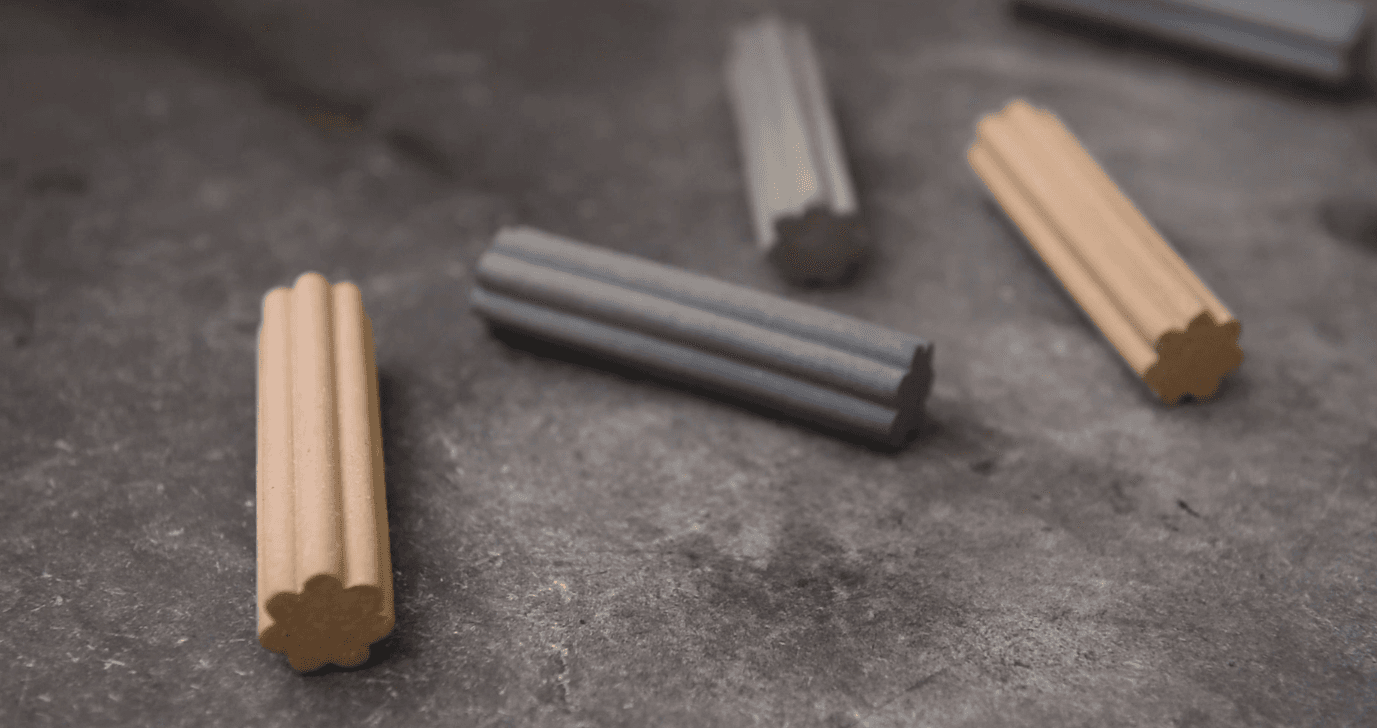 This is an old blog post and a large part of the collection is now sold out. Please check out the products from this collection that are still in stock.